Dr. Cook Shares Thoughts on Pope Francis
by Gabe Watson '13, The Bachelor • March 22, 2013

Share:
On March 13, Argentinian Cardinal Jorge Mario Bergoglio took the name of Pope Francis to officially succeed Pope Benedict XVI as head of the Catholic Church. Bergoglio was the first pope to be a Jesuit and the first to come from the Americas, but his choice of papal names is perhaps most telling about what the world can expect from him.
Francis's choice to honor Francis of Assisi, the 12th Century Catholic Saint, is interesting in that he is the first pope to do so, but it is important in what it indicates about his papacy.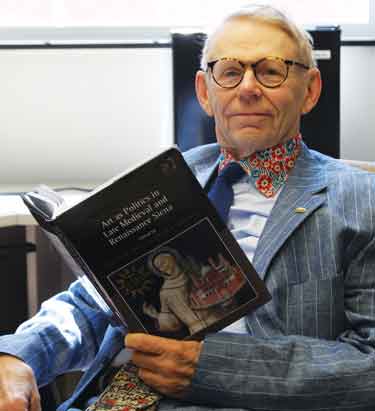 In only his second week, Pope Francis has not yet sent out any encyclicals or decided his surrounding leadership positions. Rather, he has so far revealed priorities through symbolic actions. His first words as Pope, for instance, were a less formal greeting than is traditional for a pontiff.
He has also adopted plain white robes over colorful ones and chose a wooden cross over gold. These decisions are symbolic in that they lack administrative authority, but they set a precedent for Francis's papacy and the Catholic Church in general.
Visiting Professor of Religion and History Bill Cook says these actions tie in perfectly with the character of Saint Francis of Assisi. "Saint Francis is indicative of poverty, humility, and simplicity," he said. "Even [Pope Francis]'s first words gave a sense that this was, in the best sense of the word, a simple, humble, guy."
Benedict's addresses so far have confirmed this priority shift. He has already emphasized stewardship for the earth, a message around which Christians of all sects may be able to unite. Francis of Assisi is perhaps best known for his love of nature, and Pope Francis seems to be capitalizing on both the Saint's popularity and his reputation.
One part of that reputation is a devotion to working for the poor rather than building up the lavish church buildings and possessions for which the modern Catholic Church has become known.
Another large focus Pope Francis's namesake suggests but that his symbolic actions have not yet confirmed is an attempt to work with the Muslim world. Francis of Assisi once went to visit the fifth crusade to meet with the sultan, and the two supposedly were able to communicate with respect rather than violence.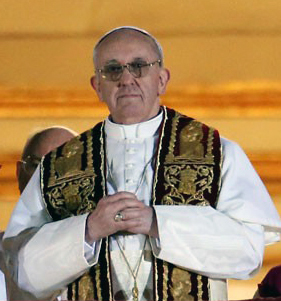 "Francis indicated that he learned about his faith by meeting with him," said Cook. "He was able to Christianize a Muslim way of talking about God."
The last two popes have met with Muslim leaders, but in 2006 Benedict quoted from a document that referred to Mohammed in ways that were taken as offensive, and the relationship was damaged. "Francis has a new start," said Cook. "He probably has little experience with Muslims [because he is from Argentina], but he seems to have the respect."
This emphasis on interfaith dialogue is another one behind which many Christians can unite. "Simply the fact that over half the world is Christian or Muslim means it is impossible to have peace without these groups getting along," said Cook. "They don't have to agree, but they have to get along."
Poverty, humility, simplicity, and respectful inter-faith dialogue are high goals, especially so soon into this new papal rule. But if these are ideals Pope Francis fosters, the Catholic community may follow suit. His rule presents the opportunity for a paradigm shift in a church that risks becoming outdated for much of the Western world.
Francis of Assisi is generally beloved by both Christians and non-Christians alike. While Pope Francis may not win over many non-Catholics with his staunch stand against same-sex marriage and other social issues that some argue are common sense, he may be able to connect with the world on other levels.