Crawford '69 Brought Home the Missing
by Steve Charles • March 21, 2013

Share: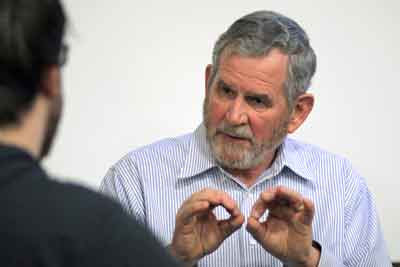 On August 10, 1944, an American B-24 bomber was shot down over Albania. Four men bailed out and were taken prisoner, and five, including navigator John S. McConnon, rode the shattered plane into the mountains.
McConnon was declared dead in 1945, but his remains were never found.
In April of 1998 Ken Crawford '69 was the engineer on a team sent to investigate the possible the crash site of the B-24.
"It was my turn to get into the trench and dig, and I found what I thought at first was a rock," Crawford told a Baxter Hall audience Thursday night. As Crawford kept digging he realized that he had found the skull of one of the dead airmen.
John McConnon's brother, James, had been searching for the remains for seven years. He had asked the Department of Defense to do the search and recovery based on information he'd received from a New York Times reporter in Albania. He was at the site when the bones were found, but workers couldn't be certain they were his brother until forensic scientists could examine them.
"He told me later that he recognized the skull was his brother's because of the teeth, but didn't say anything at the time," Crawford recalled. Once the remains were positively identified by the Joint POW/MIA Accounting Command (JPAC) in Hawaii, Crawford was honored to call James McConnon to tell him he had indeed found his brother.
"It was a very moving moment," Crawford said.
An engineer recently retired from the Air Force Civil Service, Crawford has learned personally the cost and hard work of searching for and recovering America's war dead. He also knows how necessary it is for families of the more than 74,000 missing to find closure.
As chief of the engineering division for the 21st Theater Support Command in Germany, Crawford supported search and recovery missions by the US Army Memorial Affairs Activity with the Joint POW/MIA Accounting Command throughout Europe from 1997 through 2002. Crawford had been using his skills to open up ports and highways in Macedonia after the Balkan conflicts of the 1990s when he became part of the crew of three searching for and recovering the remains of American serviceman killed in Europe during World War II.
"There are 78,978 missing from that war," Crawford explained as he reviewed some of the major battles of the war in Europe. "Since World War I, 94,416 have gone missing. That means more than 94,000 families still have someone missing in combat.
"My job was to support morticians when someone found remains," Crawford said. "The information would come to us from individuals, or from private research groups digging at crash sites for other things. If they found bones, they'd call the U.S. Embassy or us."
Crawford's first recovery mission was in 1997 at a B-17 crash site, and he detailed the methodical work required to find the remains. He also told of another effort in 1997 to recover the crew of a B-24 that had crashed in France in December 1944 and left an impact crater visible today. A backhoe was brought in to bring the earth containing the wreckage to the surface, and Crawford set up screens and a water system to wash and sift through the clay soil.
"In six weeks washing the dirt we found more than 2,000 bone fragments, none any bigger than my finger," Crawford said. JPAC was able to identify 8 of the 9 crewmen. All were buried with full honors, four in their hometown cemeteries, and four in a single casket at Arlington National Cemetery's Section 60, where many of the recovered remains of the missing are laid to rest.
Crawford concluded his talk showing onscreen a cartoon of two GIs looking over a landscape. The first says, "Will they remember us in 50 years," and the other responds, "Hope so, Joe. I hope so."
"There are a lot of guys missing, and it's a lot of work," Crawford said. "But the Department of Defense is still searching."