Public Deliberation May Calm Skepticism
by Patrick Bryant '16 • March 21, 2013

Share:
Many scholars have conducted research that says levels of skepticism found among the general population have replaced levels of trust in increasing quantities over the last four decades or so. In certain instances where ideologies may be polarized, and people are inflexible in their position, deliberation and discourse are the only possible methods to restore levels of trust.
As such trust levels continue to decline, scholars say it could lead to reluctance in joining organizations, participating in community service, and paying taxes. Dr. Robert Asen, a Professor of Communication Arts and Lead Investigator of the Research on Education, Deliberation, and Decision-Making Project (REDD) at the University of Wisconsin, said his hypothesis is that public deliberation is the antidote for waning levels of trust.
In the 2013 Brigance Forum Lecture entitled "Education and Democracy: How School Boards Use Deliberation to Build Trust," Asen said many could look at waning trust in the country as symbolic of a weakened society in general.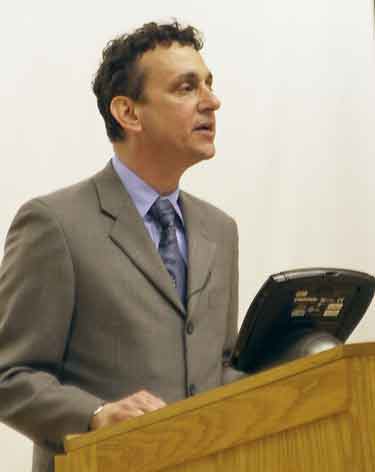 "While some scholars interpret declining numbers of trust as indicating a healthy amount of skepticism among citizens, others warn of a weakened democracy populated by less-engaged citizens," Asen said.
He what separates deliberation from forms of discourse, like dialogue, is the fact it allows for elements of conflict and controversy. Between Sep. 2009 and May 2011, Asen's research team went to over 160 school board meetings at three different school districts in Wisconsin and conducted 31 interviews with district and school administrators and members of the school boards.
In the interviews, Asen said many of the comments were very "frank." In many ways comments went so far in some cases as to say that some school board members felt uneasy with women in district leadership positions, or that they felt like they received inferior treatment by members of the district that had college educations when they did not. Many, however, were very candid in mentioning the word "trust" as an integral part of improving the school district.
"We were surprised at both the frequency and the centrality that interviewees assigned to trust," Asen said.
One board member, Asen said, spoke of needing an open mind in conducting research and asking questions in the development stages of certain decisions. According to Asen, the member said that "you never know when someone might say something that will change your course."
"For this board member, an open mind signaled a recognition of the contingency of deliberation, which sometimes proceeds in unknown directions," he said.
Although this research is intended to effect landscapes of discourse not exclusive to school board meetings, Bailey Combs '15 said the idea of trust levels altering democracy specifically interested him, especially in his hope of being a teacher after Wabash.
"The speaker had an interesting view on education and how democracy interacts with it," Combs said.
Brandon Dothager '16 said the view of deliberation and it including elements of conflict and controversy allows one to look at society in a clearer lens than one would with pure discourse.
"Asen's look at practical rhetorical deliberation, as opposed to ideal rhetorical theory, provides for groundbreaking work in how people deliberate," he said. "The key to success? Trust."
Elements of flexibility and open-mindedness, Asen said, enable people to recognize value in diverse, contrary beliefs. As one board member put it, one needs to respect others' values if he or she expects respect of values in return.
"A flexible person acknowledges the participation of others," he said. "This person hears others. Moreover flexibility suggests that my own personal view can be conformed or reformed after deliberating with another."
Especially in Asen's case of school board members answering to a constituency, there seemed to be an idea that a representative isn't listening if he or she doesn't vote or act as the specific constituent wanted. In that sense "you didn't do what I want" can be equated to "you're not listening."
"I believe that shows the tensions here, the complexities," he said.
As many believe political parties and groups are becoming more and more polarized, skepticism, reluctance to open-minded approaches, Asen said the job of restoring levels of trust and mutual respect in democratic deliberation make for a task that's challenging, yet promising.
"I think this establishes a difficult, but hopeful task," he said. "It's difficult because it's not a simple rule of governing practice. We don't simply adhere to a procedure and acquire an outcome we want. It's difficult."