Sophomore Wins Award to Honor Shepard
by John Dykstra '13 • March 15, 2013

Share:
John Vosel '15 is officially the architect of a future, permanent addition to Evansville's Bicentennial Park.
The Indiana State Bar Association's Leadership Development Academy announced Thursday evening in Salter Hall that Vosel's design for a monument honoring Indiana's longest-standing Supreme Court Justice Randall T. Shepard won the Shepard Public Art Project competition.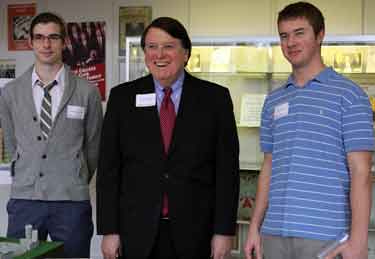 Vosel and Mark Shaylor '14 were the two finalists of the statewide competition. They created their designs as part of an art course they took last semester on site-specific sculpture with Professor of Art Dr. Douglas Calisch.
The committee responsible for selecting the winning design judged based on how the designs complied with the request for proposals, artistic merit, elements of design, the level of maintainability and resistance to vandalism, safety, the degree to which the art is interactive, and technical feasibility.
Calisch's students performed a wide range of research on Chief Justice Shepard, Evansville, and the Indiana Supreme Court before they made their designs.
"This was a new challenge for all of us, and the students in the class executed strong designs—maybe because the situation was real and the criteria mattered," Calisch said. "We spent a lot of time relating the visual design to the history, purpose, and placement of the monument."
Vosel's design took the shape of a handprint.
"I knew Randall T. Shepard really likes children and wanted children to be able to interact with the monument," Vosel said. "The hand is actually a form of a painted children's hand. It has rounded edges and a smooth texture for kids to safely run around."
Casey Kannenberg, Chair of the Steering Committee for the Shepard Public Art Project, expressed his satisfaction with Vosel and Shaylor's designs.
"Quite simply, John and Mark had the best concepts," Kannenberg said. "We were pretty amazed at what they were able to put together based on the criteria that we had come up with. We thought it would be difficult to create a design that both honors Chief Justice Shepard and is safe for children to interact with. John and Mark responded the best in terms of vision and execution of their ideas."
Chief Justice Shepard, who is an honorary alumnus of the College and Evansville native, attended the naming of the winning design and praised the College for its emphasis on enlivening one's imagination and living humanely.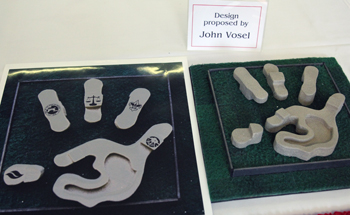 "I love Dr. Pat White's phrase about enlivening your imaginations and imagining what life might be with the benefit of a Wabash education," Shepard said. "The answer is in some ways demonstrated by what John and Mark have done and what the Leadership Academy has made possible, which is to enrich the civic life of the community by allowing the creative talents of the best of us be visible to lift up our spirits and to cause us to think through what we might leave with our fellow human beings.
"I hope that all of you will be able to see in your mind's eye how this place might empower you to be great citizens who help your fellow citizens see a brighter future."
President White related Shaylor and Vosel's work to the collaboration of the fine arts and liberal arts.
"I am proud of John and Mark, because this is art in the real world," White said. "These men have created it, and they have had to use their understanding of history, culture, politics, law, and the impact of Chief Justice Shepard's career to make a design."
Vosel received a $2,000 scholarship, and Shaylor received a $500 scholarship for their designs.
Kannenberg said Chief Justice Shepard's monument will be completely constructed either by the end of the year or early next year. Vosel will work with the fabricators for the construction project.