Crawford to Speak on Finding War Dead
by Jim Amidon • March 15, 2013

Share:
Ken Crawford, a 1969 graduate of Wabash College, will return to his alma mater on Thursday, March 21, to talk about his work to bring home the missing World War II servicemen who died on the battlefields in Europe.
Crawford will give a public talk at 7:00 p.m. in Baxter Hall's Lovell Lecture Room. The public is cordially invited to attend.
As chief of the Engineering Division for the 21st Theater Support Command, Crawford supported the search and recovery missions by the US Army Memorial Affairs Activity, Landstuhl, Germany, with the Joint POW/MIA Accounting Command throughout Europe, from 1997 through 2002.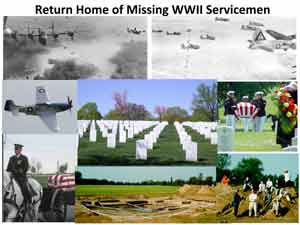 While the Department of Defense has ongoing worldwide operations to search for and recover missing servicemen from all wars based on multiple sources of information, the number of missing WW II servicemen recovered and returned to their families is relatively small.
Crawford's lecture presents the search and recovery efforts for missing WW II servicemen over a six-year period in Europe by the US Army-Europe and the 21st Theater Support Command (TSC) in Kaiserslautern, Germany, in collaboration with the Joint POW/MIA Accounting Command (JPAC) in Hawaii.
Crawford will detail the process for recovering missing WWII servicemen, from initial research and investigation, through recovery from the battlefield, identification, and return home to their families.
Specifically, he will talk about recovery efforts for P-38, P-47, and P-51 pilots in Belgium, Bulgaria, and Italy, the recovery of B-17 and B-24 crews in France, Germany, and Albania, and recoveries from the Battle of the Bulge in the Ardennes and the 5th Army in Italy. He'll talk about how he led efforts to use supporting evidence, DNA, and third-party confirmation to identify the missing servicemen, and the process of notifying families and executing burial with full military honors at Arlington and other national cemeteries.
Crawford recently retired after 42 years of federal civil service. After graduating from Wabash College in 1969, he earned an engineering degree from Purdue University. He served with the US Army Corps of Engineers in Holland and Germany and later served with the Director of Engineering and Housing as Chief of Engineering Plans and Services for the Army's 54th Area Support Group in northern Germany.
He spent 10 years with the 21st Theater Support Command managing engineering and logistic missions across Europe, including NATO planning and support for Bosnia and Kosovo peacekeeping and reconstruction operations. He led efforts to reconstruct the nations' transportation infrastructure, including rail, highway and bridge building projects. It was in his post with the 21st TSC that he also supported the search and recovery efforts to bring home missing servicemen from World War II.
In his last post before his retirement, Crawford was the Lead Project Engineer for the Civil Engineering Division of the 412th Test Wing, AF Flight Test Center at Edwards Air Force Base in California. There he led the replacement of a 15,000-foot main runway, as well as renovation of hangars and facilities supporting aircraft test missions, and the construction of new housing units.