Shaylor, Vosel To Be Honored Thursday
by Jim Amidon • March 11, 2013

Share:
Two Wabash College students will be honored on March 14 when the Indiana State Bar Association's (ISBA) Leadership Development Academy (LDA) recognizes their public art proposals, which were chosen as finalists in a statewide competition.
Last August, the inaugural class of LDA, comprising 25 young lawyers from across the state, launched a public service project aimed at honoring former Indiana Supreme Court Chief Justice Randall T. Shepard and his longtime service to the community.
As part of their service project, the LDA's class partnered with the City of Evansville to host a competition among undergraduate and graduate students at Indiana colleges and universities to design a permanent art structure honoring former Chief Justice Shepard to be displayed at the new Bicentennial Park in downtown Evansville.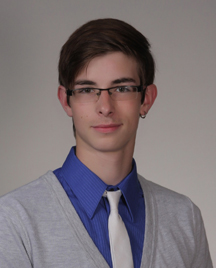 Wabash art majors Mark Shaylor, a junior from Saucier, Mississippi, and John Vosel, a sophomore from Cincinnati, Ohio, were chosen as finalists. One will be announced as the winner of the competition at an event at 5:00 p.m. in Salter Concert Hall in the Fine Arts Center on the campus of Wabash College.
A public reception honoring the finalists and former Chief Justice Shepard will begin at 4:30 p.m.
The LDA created a selection committee that included Amy MacDonell, the wife of former Chief Justice Shepard; Rita Eykamp, Chair of the Evansville Public Art Commission; Philip Hooper, Executive Director of Evansville's Department of Metropolitan Development; and Casey Kannenberg and Kevin Morrissey, LDA graduates and members of the project's Steering Committee.
After narrowing the entries down to two finalists—Wabash College students Shaylor and Vosel—the Selection Committee gave the students a chance to revise their projects in response to feedback. In addition to having his design built and permanently displayed in Bicentennial Park, the winner will also receive a $2,000 scholarship.
Wabash Art Professor Doug Calisch said he used the opportunity to have the students in one of his classes immerse themselves in a liberal arts approach.
"My class spent the month of October researching Randall Shepard, Evansville, the Indiana Supreme Court, and numerous other angles to understand the full scope of the project," Calisch said. "Students wrote design philosophies, project rationales, letters of intent, and detailed project budgets. Most worked with technology to produce computer generated replicas of their designs. We even had visits to class from a local structural engineer and a fabricator.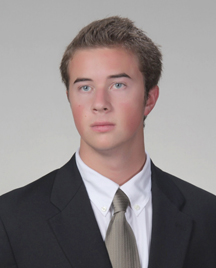 "The student proposals represented the liberal arts personified: research, descriptive writing, prose, visual literacy, structural analysis, teamwork, marketing, number crunching, and a bit of spit and polish."
The LDA is a leadership forum to empower and develop young Indiana lawyers to be informed, committed, and involved so that they may fill significant leadership roles in local and state bar associations, communities, and organizations, and serve as role models in matters of ethics and professionalism. The LDA features professional facilitators and prominent speakers from various disciplines.
"This milestone event is especially satisfying for the LDA as a result of the exceptional proposals submitted by our state's educational institutions for the Shepard Public Art Project," said Michael Jasaitis, who is a member of the Steering Committee. "Ultimately, the design chosen not only encompasses the original vision of the LDA in honoring our former Chief Justice Shepard, it will provide an innovative and aesthetically pleasing landmark that will resonate in, and beyond, the community of Evansville far into the future. We certainly look forward to implementing the concept selected and completion of this service project."
For more information on the event, contact Jim Amidon at Wabash College (765-361-6364 or amidonj@wabash.edu). For more information on the ISBA's Leadership Development Academy, contact either Casey Kannenberg (CKannenberg@bgdlegal.com) or Gina Venturelli (gventure4@gmail.com).