Padgett '84 Ends Time Career with Chavez
• March 6, 2013

Share:
The death of Venezuelan President Hugo Chávez provided Tim Padgett '84 with one final chance to profile the controversial South American leader.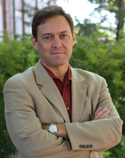 Chávez's death oddly occurred the same week Padgett's career as Time Magazine's Miami Bureau Chief ended.
Padgett '84 learned earlier this week that after a series of cutbacks Time had decided to close its Miami Bureau, and eliminate the veteran journalists' position.
Padgett will continue to write online articles for Time until he takes another position elsewhere.
Chávez played a role in Padgett's career. The former Bachelor editor and Carmel native first interviewed Chávez 15 years ago during Venezuelan elections. Chávez granted Padgett an interview when he ranted about the US and then President George Bush at the United Nations. He has been a key figure in Padgett's time as Bureau Chief.
Padgett's piece on the Chávez death is a must read for anyone interested in South American politics and great journalistic writing.