Strausbaugh, Lefever Bound for Nationals
by Brent Harris • March 2, 2013

Share:
Senior Jake Strausbaugh and sophomore Reece Lefever extended their seasons by earning trip to the 2013 NCAA Division III Wrestling National Championship Tournament. The two Little Giant grapplers earned top-three finishes at Saturday's Midwest Regional competition.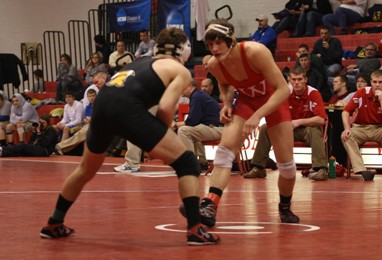 The event provided two special moments for Strausbaugh. The senior not only earned a chance to compete at nationals for the second time in his career, he also tied the Wabash record for career wins by posting a mark of 3-1 for the day at 147 pounds.

Strausbaugh entered the tournament as the number-two seed in the bracket. He started the tournament with a 10-7 win over Jonathon Blanton from Trine University, but lost in a tight 4-2 decision to third-seeded Ben Strobel from Wisconsin-Stevens Point. Strausbaugh rebounded with an 11-6 win in the consolation semifinals against fifth-seeded Joseph Ruettiger from the University of Chicago, then recorded a pin at the 5:30 mark of his third-place bout versus top-seeded Gage Pederson from Olivet.

Strausbaugh's three victories moved him to 159 for his career, equaling the total set by Chris Healy from the 2001-02 season through the 2004-05 campaign. Strausbaugh will have a chance to take the all-time lead when he competes at nationals March 15-16 in Cedar Rapids, Iowa.

Lefever will join Strausbaugh in Iowa after taking second place at 157 pounds. The third seed in the draw, the sophomore transfer started the day with a 15-2 major victory over Jim Layton from Chicago, followed by a 9-2 decision against sixth-seeded Nick DiNardo from Elmhurst. Lefever battled to a 4-3 win in the tiebreaker against unseeded Jamey Simmons from Wisconsin-Stevens Points, who had already knocked off the two-seed earlier in the tournament. The victory sent Lefever up against top-seeded Elias Larson. Larson, a two-time All-American and the top-ranked wrestler in the nation at 157 pounds, scored a 9-1 major decision in the finals. Lefever, who wrestled at Indiana Tech last season, will compete at the NCAA Division III National Championship Tournament for the first time.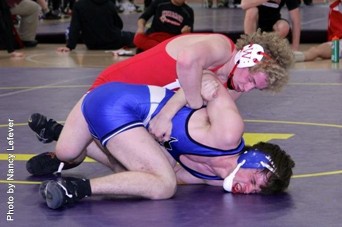 Conner Lefever, the twin brother of Reece, nearly earned a trip to nationals. Unseeded entering the competition, Lefever wrestled his way to a fourth-place finish in the finals. He opened with a 10-4 win against Josh Crawford from Olivet, then picked up a 5-3 victory over the two seed, Danny Balderas from Elmhurst. Third-seeded Ryan Conat from Wisconsin-Stevens Point won a tight 5-4 decision in the championship semifinal round. Lefever scored a 14-3 major decision in his first consolation bout but lost 6-3 to Ryan Pieper from Trine in the third-place bout to send the fourth-seeded wrestler on to nationals.

Austin O'Neal finished fifth at 184 pounds with a record of 3-2 for the day. He scored a 9-4 win in his first bout versus Andy Borchardt from Stevens Point, then won 3-2 against Jeff Holm from Olivet. A 3-2 loss in the semifinals sent O'Neal to the consolation bracket where he lost by a score of 3-1, but rallied for a 5-4 victory in the finals over Jared Groeneveld from Alma to finish fifth overall.

Tim Locksmith also took fifth place at 133 pounds. After missing nearly half the season due to a shoulder injury, Locksmith lost a heartbreaking 11-10 decision to fifth-seeded Kameron Olsen from Olivet in his first bout. Locksmith shut out Zachary Case from Alma, but lost by pin (0:25 in the next round before moving into the finals. Locksmith scored a technical fall with a final score of 16-1 against Olsen the second time around to earn fifth place.

Michael Venezia took sixth place at 141 pounds in his first NCAA tournament competition. After losing a 1-0 decision his first bout, Venezia scored wins of 6-4 and 7-3 in the next two outings before once again falling 1-0 to drop to the fifth-place match. Fifth-seeded Kenneth Richmond from Olivet College recorded a pin at the 2:19 mark of the finals bout to drop Venezia to sixth place.

Wabash finished sixth out of the 12 teams competing in the final standings. The Little Giants scored a total of 64 points. Wisconsin-Whitewater won with 121 points, followed by Elmhurst (108), Wisconsin-La Crosse (89), Wisconsin-Stevens Point (83.5), and Olivet (82.5).