Chicago Group Honors Pat and Chris White
by Tom Runge • March 1, 2013

Share: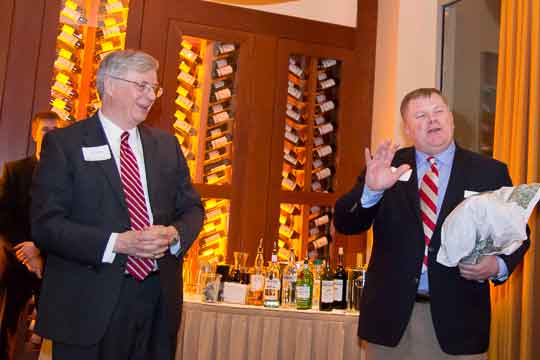 Thursday, February 28, 2013. Kerry and Jim Kilbane '84 hosted a Wabash Club of Chicago reception at the Topaz Café in Burr Ridge, IL to honor Chris and Pat White. It was a great evening full of conversations and, of course, Wabash stories.
A great crowd, ranging in Classes from 1956 to three members of the Class of 2013, gathered to thank Chris and Pat for their service. Kilbane introduced first lady Chris White and lauded her leadership efforts with the Crawfordsville and Montgomery County communities. The Free Clinic she has worked tirelessly on is set to open this summer.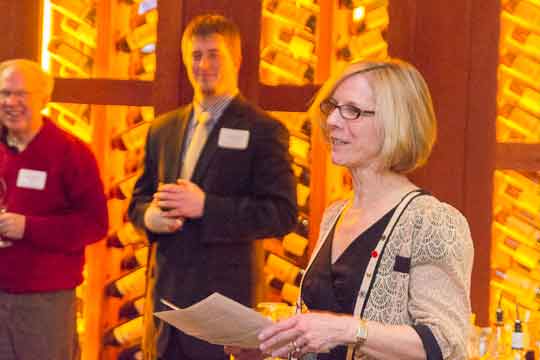 President White followed with thanks to the local alumni. He also mentioned the outstanding performances of our track and swimming teams. The teams are exceptional in their sports but also outstanding in the classroom, earning Academic All American honors. Pat outlined the spring break immersion learning courses taking students around the globe as part of their semester studies.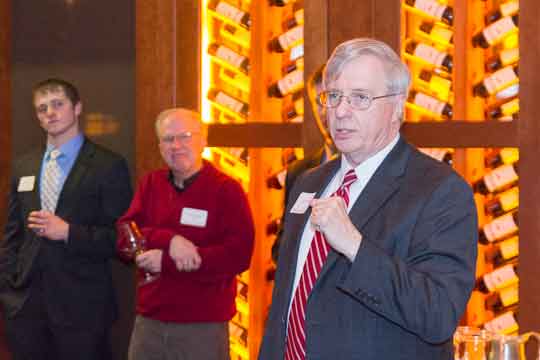 Jim Kilbane then offered Pat and Chris gifts from the local group as he mentioned their ties to Chicago and the Wabash Club of Chicago. Jim gave President White a University of Chicago football t-shirt, a hat, and also a University of Chicago polo shirt, declaring it was now appropriate for Pat and Chris to cheer for Pat's Alma Mater. Chris was given a nice University of Chicago bag. Kilbane did note it was tough to find something about football in the University bookstore!
Joining President and Mrs. White from the college were Dean for Advancement Jonathan Stern and his wife Holly, Senior Major Gifts Officer Steve Hoffman '85, and Associate Director of Alumni and Parent Relations Mike Warren '93.
It was a great evening of celebration – thank you to Kerry and Jim Kilbane and the Wabash Club of Chicago!
Photos:
Top: Jim Kilbane '84 honors President and Mrs. White
Middle: Chris White talks to the group about her perspective on Wabash
Bottom: Pat White makes a point about the great things happenings at Wabash
For more photos, click here.