Doyle Speaks of Wonder, Mercy, and the Wild
by Steve Charles • February 26, 2013

Share: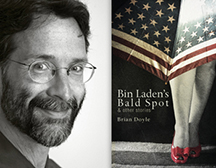 An acclaimed author who has shaped the work of Wabash writers, readers, and teachers visits the Wabash College campus Thursday, February 28 for two readings.
Brian Doyle, whose most recent books include the novel Mink River, the short story collection Bin Laden's Bald Spot and Other Stories, and Grace Notes, a series of nature and spiritual essays, will talk about his book The Grail: A Year in Search of the Perfect Pinot Noir, at 4:30 p.m. in Detchon International Hall.
At 8 p.m. in Korb Classroom he will read from his other works and take audience questions in a presentation titled "Notes on Wonder and Kids and Mercy and Hawks and Other Wild and Confusing Miracles…"
Doyle's essay "Leaping" was featured in the PBS Documentary Faith and Doubt at Ground Zero, and his writing is regularly included in the Best American Nature Writing, Best American Essays, and Best American Spiritual Writing series.
Those anthologies is where local writer and Wabash and Crawfordsville High School English teacher Helen Hudson first encountered Doyle's work during the time she was a stay-at-home mom. She calls him one of her "life heroes."
"Our children were small and I was crying out for intellectual companionship," Hudson recalls. "His essays were among the most important touchstones for me, these reflections on parenting from a thoughtful, writerly person. Brian has an essay written when his twins were babies about the start of language and about his Irish roots…it's magical."
Doyle's presentation about Portland Magazine, the award-winning journal he edits for the University of Portland, also inspired a change in direction for Wabash Magazine, the journal of Wabash College.
"Brian's talks are always passionate, entertaining, and about things that matter to folks," says the magazine's editor, Steve Charles. "He spoke about including the best writers in the world in his magazine, about helping students, faculty, and alumni find their voice there, and I realized our own magazine could be not just information, but an expressive place for the Wabash community."
"Brian is one of those rare writers whose generous and playful spirit matches his prose," says Wabash College English Professor Eric Freeze, who hosted Doyle when he was teaching at Eureka College. "I know that he will be entertaining and engaging, I know that students will benefit from his expertise, and I know that people will be moved.
"As for what to expect, all I'll say is that Doyle can be a bit of a wild card. He reads and performs much like a jazz musician, with a table full of manuscripts in various stages of completion. He'll riff on a theme and sometimes take it to the audience to make up the rest."
Division II Administrative Assistant Violet Mayberry read Doyle's work for the first time while publicizing the upcoming readings and was caught up in his writing.
"Doyle's unexpected style seems to captivate a wide audience. From wine, to grace, to the heart of a hummingbird, Doyle's insight demands attention," Mayberry says. "Imagine a writer who speaks to everyone without having to change languages and you may begin to envision the experience Doyle offers in his writing.
Doyle will sign books following the February 28 reading at 8 p.m.
His talk at 4:30 will focus on his year at an Oregon vineyard and is hosted by Wabash Director of New Media and wine writer Howard Hewitt.
"Doyle's great narrative about one year in Oregon Vineyard's weaves a tale beyond the story of a winery," Hewitt said. "The Grail explores some of the Indian history in the hills just outside Portland and a year in the life of Jesse Lange at Lange Estate Winery. It's great story telling for the wine lover and teetotaler alike."
Both readings are free and open to the public.