IAWM Celebrates Pat and Chris White
by Jim Amidon • February 17, 2013

Share:
The Indianapolis Association of Wabash Men is the College's largest and most active alumni group. Each year its members raise money to support scholarships, host dozens of recruiting activities, and come together for social events ranging from large golf outings to more intimate networking dinners.
One of the IAWM's most successful and enduring events is the Winter Bash, which was held last Saturday night at the Regents Bank Tower. The Winter Bash started off as a holiday dinner dance back in 1963, but since 1994 it has been held in mid-February.
Since 1975, the IAWM has used the occasion to honor a "Man of the Year," and reviewing the list of past recipients is like reading through the pages of Wabash College history. John Collett, Dick Ristine, Ben Rogge, Bob Mitchum, Byron Hollett, Vic Powell, Lew Salter, Will Hays, and Dan Evans are just a few of the past Man of the Year award winners.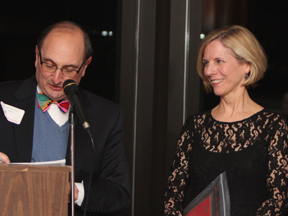 It seemed only fitting that at its 50th anniversary event Saturday night, the IAWM would honor Pat and Chris White, who since 2006 have served Wabash as dedicated President and First Lady.
See pictures from the event here.
The Whites have contributed so much to Wabash and to Crawfordsville, but also to alumni groups around the country — though none as much as the Indianapolis Association. As they near the end of their service to the College, the IAWM chose to bestow upon them their highest honor.
Chris White became only the third woman to be named "Woman of the Year" and joins Lou Ristine and Anne Ford to receive the high honor.
In presenting Chris with the award, long-time IAWM volunteer Jon Pactor paid tribute to her graciousness and commitment to the men and women of Wabash.
"You act with care and compassion and with humor and strength for your family, for our College, and for the greater good of the community and its inhabitants," Pactor said. "Whatever you do and wherever you do it, you exude endless energy and bring together people with differing thoughts and make something good happen. You are a First Lady for all seasons."
Pactor saluted Chris White's commitment to Crawfordsville and cited her work with the Montgomery County Community Foundation, Crawfordsville Main Street, League of Women Voters, Christian Nursing Service, and the Montgomery County Free Clinic.
"You have been a power for the health of Crawfordsville and Montgomery County. You are their special Vitamin C. You have spent countless hours to help bring vitality to the locality… You have been a dedicated nurse to the body politic," he said.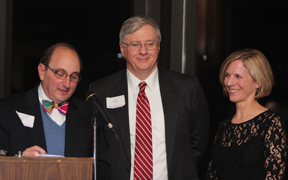 Moments later, Pactor invited President White to the lectern and read his citation. And given that both Pactor and President White have sharp, comedic tendencies, there was plenty of humor in the tribute, too.
"Like so many boys then and now, you had dreams as you were growing up in Dixon, Illinois. One of your dreams was not to become the president of a small liberal arts college for men in Crawfordsville, Indiana," Pactor quipped.
While Pactor cited some of Dr. White's notable accomplishments in fund raising, facilities construction, and program development, he focused primarily on the President's friendliness and personality.
"You have forged personal, one-on-one relationships with the College's stakeholders," Pactor said. "You have been kind, thoughtful, and enthusiastic, often combined with humor and wit… You have supported students in athletics, in the theater, in the glee club, in their fraternities and dorms, and everywhere else. As you advised them not to become fake adults, you have exemplified what it means to be a genuine gentleman and a responsible citizen."
It was noted throughout the evening that many of President White's encouraging words have now become woven into the very language students and alumni use to describe the College. That Wabash inspires "students to become heroes in their own lives" and "takes young men and their dreams seriously" is a direct result of President White's aspirations for the College.
Pactor concluded by thanking the President for living out the College's mission.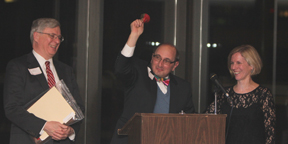 "Wabash alumni know that the Wabash education is not just the transfer of data but is the application of education to create better men and a better world," Pactor said. "By your words, by your conduct, and by your character, you are a Wabash Man through and through. As our president, you have thought critically, acted responsibly, and led effectively, and now so many men and women are living more humanely because of you. Your Wabash life is our Wabash inspiration."
Pactor ended the tribute by recreating a long-standing Wabash tradition. Just as President White has rung in and rung out all of Wabash's incoming and graduating classes since the fall of 2006, Jon Pactor raised a hand bell and rang out the President and First Lady.