Robert E. Shook '83
• February 26, 2013

Share: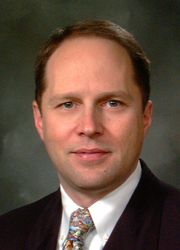 Rob serves as Chief Strategist for Industry Solutions in IBM's Software Group. He was a founding member of IBM's LGBT Executive Diversity Task Force earlier in his 25-year career there. Rob has represented Wabash in the "Colleges That Change Lives" tour, delivered a Chapel talk, led a diversity workshop on campus, and, through the L.E.A.D. program, presented about protecting credit histories. He serves on the board of the Division of Diversity and Community Engagement at the University of Texas and the 1809 Alumni Board at Miami University of Ohio. He also recently finished raising his eighth guide dog for the blind.
Having engaged more with Wabash over the past year, Rob is inspired to become even more active. He believes that serving on the NAWM Board would be an additional way to increase his contribution. He believes in "leading through serving and serving through leading" both inside and outside of work. Rob states, "Other alumni would see my election here as further evidence of the progress and the welcome that has been so warmly and genuinely extended by Wabash. I know the time commitment required and the good work that can be done by people committed to a common purpose."
Vote online for NAWM Board of Directors.