Entrepreneur Summit to Open New Paths
by Tyler Hardcastle '15, The Bachelor • February 11, 2013

Share:
The Schroeder Center for Career Development will host its third annual Entrepreneur Summit on Saturday, Feb. 23. The summit will feature keynote speakers with companies in the advertising, hiring, and medical device industries. The event will also bring alumni and other speakers involved with varying parts of professional life to campus.
Over 210 participants are registered for the day-long event, including students from six Indiana colleges and universities, as well as entrepreneurs from across the state.
"This year we've added nine breakout sessions that students can choose from in addition to the sessions everyone attends," Director of Career Services Scott Crawford said. "You create your experience a little bit more."
The summit focuses more on how participants can use what they learn in a variety of capacities.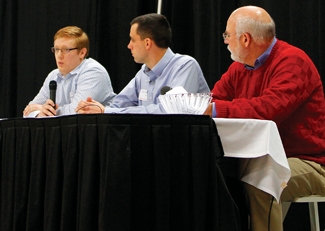 "It's easy to be misled into thinking that the word entrepreneurship means only a business and that only people who are interested in business in a really restricted sense should be interested in the summit," Assistant Director of Career Services James Jeffries said. "In fact, it's something that should appeal to many liberal arts students."
Though each speaker will discuss a different part of building a business, they also will address broader life skills. Having an entrepreneurial outlook allows people to adapt to new and changing situations in life and work.
Carl Rivera '13 knew practically nothing about the island of Nantucket when he applied to the Nantucket Bike Tours internship last year. After meeting and later interviewing with the company's owner and operator Jason Bridges '98 at the Entrepreneur Summit last year, Rivera was offered the internship. Not long after, Rivera set off for the northeast.
"Every single day was cool because you're interacting with different people," Rivera said. "People from Italy, Mexico, Texas, Chicago, wherever."
Rivera only spent two weeks on the island before he began giving bicycle tours. Bridges, the owner, started Nantucket Bike Tours a few years back to provide cultural and historical tours of the island. Rivera had to learn a great deal in a short time to prepare for the tours.
"You are constantly building leadership skills, communication skills, and being aware of the clients," Rivera said. "You really gauge the interest of the client, making each tour different."
The company is run with close relationships with the community and various partnerships. Over the course of the internship, Rivera worked with Bridges in many aspects of the company. Bridges also runs a branding company and works extensively with social media and networking.
"Jason is the definition of an entrepreneur," Rivera said. "That's what I want to do when I'm older, open up businesses and then sell them. I'm entrepreneurial minded; a lot of my family is."
According to Crawford, this entrepreneurial mindset will be more and more valuable in the coming years.
"When I started working here kids would graduate and go to work at a company like Hershey with the vision that they would stay there for their careers," Crawford said. "That happens a little bit, but it's rare."
As the job market continues to change students must be able and willing to change with it. The Entrepreneur Summit will be held on Feb. 23, 2013 starting at 9 a.m. Registration is required and can be filed out on the Career Services web page.