For Those Who Didn't Make It Home
by Howard Hewitt • January 30, 2013

Share: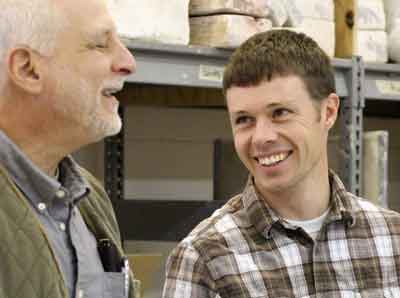 Josh Stowers '14 was a self-described young and dumb kid on September 10, 2001. Stationed at Fort Campbell, KY, just a year removed from high school, he was training to become a surgical technician with the United States Army.
After the terrorist attacks of the next day, Stowers became a motivated soldier and leader.
"We all thought it was just a plane crash, but then there was a second plane, and then it was, 'Holy cow, someone has attacked us,'" Stowers recalls. "I was young, dumb, and so thought I was ready for a war. I'm in the Army—let's go kick some ass. And then we did…but it wasn't like the movies."
That year in service became three tours of duty in Iraq as a scout, sniper, and part of a personal protection team for an infamous U.S. Army Colonel. Stowers was also serious about his education and following his Army career took advantage of the Yellow Ribbon Program and G.I. Bill to enroll at Wabash where he is completing his junior year.
Not all Wabash students realize that Stowers is a 30-year-old junior—he is slightly built with a youthful appearance. But when students find out he's a veteran, he is frequently asked about his time in Iraq.
"It's indescribable," he says. "You are thrown into the nastiest, most terrifying situation you can possibly imagine. It's every day for 365 days. It's easy to lose your humanity very quickly. There is a lot of glorifying of things, but there is nothing glorious about it.
"You are on the ground in Iraq. People are playing political games in Washington, but when you're that guy on the ground it's real. You almost can't describe it to someone unless they have been there. It's surreal. And a year is a very long time in a combat theatre."
Stowers joined the Army to find a career and make more money to support a family. He has a wife and two children with a third on the way. He didn't care much for high school, though he was a good enough student. He decided to enlist to avoid a life of physical labor. He had watched his father endure as a pipe-fitter and welder.
He calls boot camp and training camps in South Carolina, Texas, and Colorado life-changing experiences because he was exposed to people much different than in his native Kirklin, Indiana.
After 9/11 he changed from a medical training course to join the fight against terror.
"I was like, 'Oh crap, here I am stuck with this job that doesn't really lead anywhere and it's not out on the front line taking care of this problem. I need to switch to something to get in on the action a little bit.'"
He was first deployed to Iraq in early 2003, just after President George Bush had declared operations had ceased. His group was stationed near the Sunni Triangle, north of Baghdad. He was a cavalry scout working reconnaissance. He later switched to the infantry, where he saw the horrors of war.
"We were getting mortared in the evenings," he says with surprising calm. "I was the first guy to get shot at in our
platoon. They shot an RPG [rocket propelled grenade] at me." He laughs. "Those are a lot louder in person than they are in the movies.
"Lucky for us the Taliban and al Qaeda were not very well trained, so they forgot to remove the safety caps on the end of the launcher. So it's a big flying piece of steel instead of an exploding piece of steel coming at you."
His final tour of duty saw heavy action when he was plucked from a pool of soldiers by Colonel Michael Steele, of Black-hawk Down fame. Steele was Bravo Company commander of the 3rd Ranger Battalion at Mogadishu, Somalia. Stowers calls Steele
a great man who is quite different than the character portrayed in the Ridley Scott movie.
After a time on the Colonel's security team, he was put on the line with infantry soldiers and led a sniper group.
"We had basic sniper missions, a few whole platoon missions and a lot of fighting. Much of the time we went to areas where there was a lot of activity. Often we were on observational missions, just watching for days to see if there was any activity. Then we'd have other missions where we were told intelligence knew there was a guy involved with the Taliban or al Qaeda and we needed go there and eliminate that person."
From that harsh reality to home in 2008 was a bit of a shock. Stowers' attention turned again to college. He knew he didn't want a big state school, in part because of his age, but also because he wanted serious academics.
He and his girlfriend had a child so he didn't want to be far from his Clinton County home. He loved Wabash after one visit but now admits the transition wasn't easy.
"I had to get used to being around college students, but Wabash made it easier because the average student here, I would say, is very mature and very responsible.
"Coming from the military, we expect people to be able to operate with automatic weapons on their own in a hostile environment. That's a lot of responsibility. So Wabash, minus the automatic weapons, is very similar, because we expect our students to behave like gentlemen on and off campus at all times.
"Those expectations between the military and Wabash being somewhat similar, I think that made the transition much
easier."
He felt out of his element initially, uncertain of his medical future after one chemistry class. He found refuge and direction in Professor Neil Schmitzer-Torbert's 100-level Psychology course. He changed his major and calls Schmitzer-Torbert his mentor.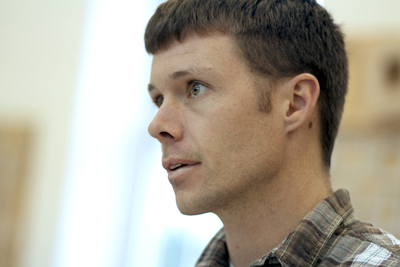 "He gave me a chance as a freshman to do graduate level work, a paid internship, and I've been able to have an ESH job with him in the lab. I was able to go to a New Orleans Neuroscience Society Conference. We presented our research. I saw even more value in a Wabash education down there than they tell you here. I felt like I was better prepared or had an edge over many of the other undergraduates or even some graduate students."
Stowers hopes to earn his psychology degree and pursue a master's in divinity at graduate school. He would like his life's work to revolve around a non-profit or in ministry.
Stowers is now known around campus as a former soldier. He stood and watched with a tear in his eye at a campus service memorializing the victims of 9/11 during the fall of 2012.
"It really reminds me, when I think of Veterans Day or September 11 or any patriotic holiday, about guys that we lost, guys that didn't come home, guys that lost limbs, guys that left more on the table than I did. And I'm reminded of my responsibility to live for them.
"You make it home and you have a responsibility to those who didn't…to live well."