Friday is 13th Research Celebration
by Patrick Bryant '16 • January 24, 2013

Share:
On Friday 95 students will be participating in the 13th annual Wabash Celebration of Student Research, Scholarship, and Creative Work. The event, which will be held from 1 to 5 p.m. in Detchon Center, is meant to showcase the collaborative work that comes from a school with very strong faculty-student relationships, chairman of the Celebration's planning committee Professor of Chemistry Lon Porter said.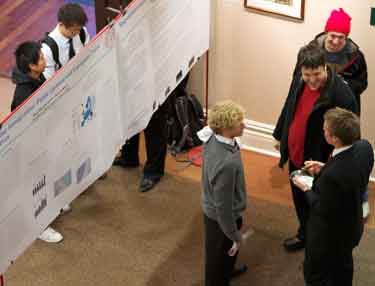 The event, for which afternoon classes will be canceled, will feature two types of presentations, oral presentations with a question and answer session and poster presentations. Porter said the Celebration provides an opportunity for students to present their work to the Wabash community.
"This celebration does a number of things," Porter said. "First of all, it allows us to take a moment and look at what's going on because I think sometimes we get very focused in what we're doing from a day to day thing, or just our [own work]. It's really amazing, I think, to bring this liberal arts model together and say, 'here's a way we can feed that intellectual curiosity that we have and think about what's going on across campus.'"
The Celebration provides the opportunity for biology major Kalp Juthani '15 to present work he did over the summer at the IU School of Dentistry Oral Health Research Lab. In his talk entitled "Relative Susceptibility of Human Permanent, Deciduous and Bovine Enamel to Cariogenic Challenges," he will be talking about his study of the role fluoride plays in protecting enamel against a high concentration of acid. It means a lot to Juthani both personally and professionally to have a venue like the Celebration to present his research.
"Not only will it prepare me for presenting in the future, when I actually do present in front of larger audiences, it will give me a lot more confidence and it will give me some of the skill sets necessary in presenting in the future," he said.
A priceless part of the experience will be simply receiving feedback on his work from the various students and faculty Juthani interacts with on a daily basis but isn't necessarily presenting to if not for opportunities like the Celebration.
"I look forward to new reactions from fellow classmates as well as some of my own professors," Juthani said. "It's something that I would only get through [making] this presentation at a small liberal arts school."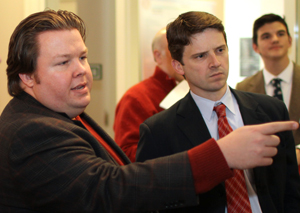 An item of note for those looking to conduct research or explore a project over the summer is that the same committee overseeing the Celebration will also be providing research grants for the endeavors of collaborative work of students and faculty. Porter can be contacted for more information regarding that process.
Porter spoke of the rarity of classes being canceled on the Wabash campus and that it speaks to the volume of the campus's embracing the work of students and its understanding of the importance of being able to present work to others.
"I think part of the liberal arts is having a love of intellectual curiosity and a natural excitement about learning," Porter said. "It's really just an idea to celebrate, come support each other, come enjoy yourselves, come learn, and see what the community has to share. I think that it's definitely worth taking a moment during a busy semester, to recognize that and support it."