Elliot Johns' 16 Making His Mark In Pool
by Jocelyn Hopkinson '15 • January 23, 2013

Share: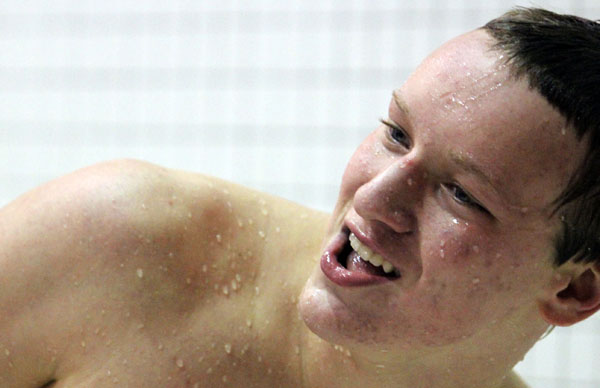 Swimming and Diving has had the biggest infusion of youth to its roster more than any other sport at Wabash in the last two years. 16 of its 21 swimmers and divers are underclassmen, including eight freshmen. Leading the way for the 2016 class is middle-distance swimmer Elliot Johns.
Johns already has the second fastest time in the 500-yard freestyle event at 4:48. He is pacing the team in both the 200-yard backstroke (1:44) and the 200-yard freestyle (1:54).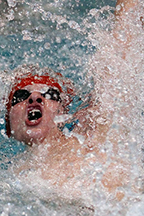 "He has the height (6-foot, 5-inches) to be great and you can't teach that," Coach Steve Barnes said. "His height coupled with the fact that he's a strong kicker makes him very talented."
Johns has been an early contributor in the sprint and middle-distance races. He is somewhat new to the events which makes his successes all the more impressive.
"In high school, I swam the mile and other long events," the Carmel, IN native said. "But those events don't work out as well for me. Towards the end of my senior year, I transitioned more to middle distance."
Barnes aims to continue working with the freshman on the change. The coach said one of the big reasons is Johns' preference.
"We're just refocusing what he swims here versus in high school," Barnes said. "He was swimming a wide range of events in high school but we've scaled that down to just a middle distance sprint focus for him. I think that's where his talents will lie as he gets older and it also helps the team out now because we have a strong distance crew.
"He's faster in just a couple of months of training than he was when he graduated high school which speaks to his work ethic."
As it turns out, work ethic and practice had an important influence in Johns' decision to choose Wabash.
"In high school, practices consisted of swimming a lot of yards," Johns said. "Here, there's less volume but a lot more intensity."
Little Giant swimmers have two two-hour practices a day, with one in the morning and one in the afternoon. Barnes said this helps the team because in order to swim fast, they need to train fast. He also found an academic advantage too.
"The schedule helps our guys with time management," he said. "Academics are always going to come first, so it's important for me to use our swimmers' time efficiently."
Time had to be easier to manage over winter break. The team made its annual trip to Florida.
"The trip was a great escape from everything else," Barnes said. "There were 50 to 100 other colleges in the area. It gave our guys a chance to practice with other teams and interact with them. From a mental standpoint, that helped with the stresses they might have training here on an empty campus and the weather is bad."
Johns said another highlight of the trip was team bonding.
"If I had to described it I'd say it's practice, beach, practice, beach, sleep," he said with a smile. "The trip is where a lot of guys really get to know each other, especially the guys who are in fraternities and in dorms. We'll got to hang out with one another outside of the pool and no distractions."
The trip exposed the team to good competition, but none better than the Oct. 27 meet at defending national champion, Denison. The 200-freestyle race was one of the rare times Johns was overmatched in his career. The swimmer in the lane next to him was the defending national champion in the event and the national record holder.

"I was a little bit apprehensive in that race," Johns admitted. "I was with him for the first 100 meters of the race, but I honestly don't think he was going too hard. The last half he really turned it on and beat me by five seconds."
Barnes looks past the win-loss record to find the silver lining in the sport.
"Whether you win or lose, you can look at the clock and evaluate yourself on your performance," he said. "When you swim against national champions, you have to remind freshmen and sophomores that they didn't walk in and become national champions overnight."
Wabash will have another shot at Denison along with the rest of the North Coast Athletic Conference when conference championships are held in February. If the youthful Little Giants continue their improvement, Johns and company will have the opportunity to make a strong statement to the rest of the conference.