MLK Day: Oware Talks About Rap Music
by Patrick Bryant '16 • January 22, 2013

Share:
Dr. Matthew Oware told a Wabash audience Monday that since rap went mainstream in the late 1980s and early 1990s it has seemed to be a genre that is "extensively hyper-masculine, homophobic, sexist, and violent."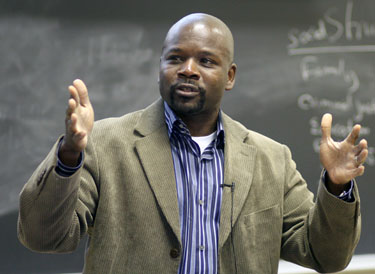 In his talk entitled "The Brotha Who Loves: Complicating Hegemonic Black Masculinity in Rap Music," Dr. Matthew Oware, a sociology professor at DePauw University, said it isn't that simple. The talk given Jan. 21 was in observance of Dr. Martin Luther King, Jr. Day..
Oware spoke of a correlation between manufacturing jobs leaving urban areas in the 1960s, 1970s, and 1980s and rising crime, unemployment, and births out of wedlock, among African-American families.
"What the consequence of [a movement of manufacturing jobs] is you lose a primary means for individuals to make a living," Oware said. "Some individuals, essentially to make a living, they turn to gang-related activities or engaging in illegal activities."
Since then, according to Oware, the role of African-American men has switched to that of a "provider" to that of a "player of women."
A crucial and devastating effect has been the loss of the family unit. Oware shared a speech made by then-Senator Barack Obama who said that fathers in the African-American community need to become men and stop acting as boys. Obama went on to say that the responsibility of a father doesn't merely end at conception.
The ideas of violence, subjugation of women, and disregard for the family unit, according to Oware, are certainly glamourized in the lyrics of many rap songs. After sharing examples of profanity-laced excerpts from songs, many of which included racial slurs, Oware then shared excerpts from other rap songs which included appeals to family, a calling to provide for family, and the beauty of a child's birth. One of the issues, Oware said, is that what sells in the market right now are the songs that glamourize ideas of violence, infidelity, and sexism, are consumed in many cases by young, Caucasian males. In many cases, rappers are forced to "appeal to market forces," he said.
The glorification of these such is not limited to the rap genre though, Tyler Griffin '13, Chairman of the Malcolm X Institute for Black Studies, said. Griffin said country music videos often portray scantily-clad woman and emphasize a heavy usage of alcohol. The difference as it pertains to the African-American community is the fact that rap music is almost an obligation when one grows up in an urban area, he said.
"The same discussions that we take from rap we can also take from [country music]," Griffin said. "It's more pertinent to the black community because in the inner-city, hip-hop, rap, if you don't know that stuff, you don't really survive."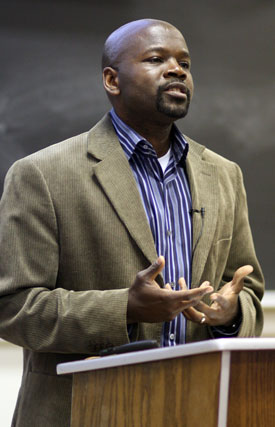 What can be done begins with communication, Oware said. He said that he grew up listening to rap music, and although students should not stop listening to the genre, discussions need to take place.
"My major point is, even when we see instances of misogyny, sexism, and homophobia, it's complicated," Oware said, "[The rappers] are saying other stuff too. This is a complication; this is the complexity that we need to bring to the floor. I think it definitely needs to be critiqued, it needs to be discussed, but we also need to have a fuller picture."
Since the talk was meant to be a part of the College's and the MXI's observance of Martin Luther King Jr.'s birthday, Griffin said King would be sympathetic to the income inequality that exists in today's urban centers, but King would be extremely disappointed in the lyrics of rap music, especially the usage of racial slurs that King worked to take out of vernacular altogether.
"I think if Dr. King rose from his grave today, he would not only be fighting the injustice of the American economy," Griffin said, "but he would also be fighting people within his own community because unfortunately they are perpetuating [some of] the things that he fought against."