Cincy Group Thanks Pat and Chris White
by Tom Runge • January 16, 2013

Share:
A great crowd welcomed Pat and Chris White to the Annual Cincinnati dinner – the largest group we've seen in several years. The turnout included several young men and their families – this was their introduction to Wabash and her alumni. Hopefully we'll see all of them in the fall!
Before dinner, Trustee Roger Billings '59 and Bill Augspurger '64 welcomed the attendees and also shared emcee duties throughout the evening. Dean Steve Klein introduced our prospective students who in-turn told the group about themselves and then introduced their families.
Following the traditional Montgomery Inn dinner, Roger Billings introduced Dr. Brett Coldiron '78 who shared the impact Wabash College had on his life. Dr. Coldiron mixed humor with seriousness in a way that made his experiences personal and profound.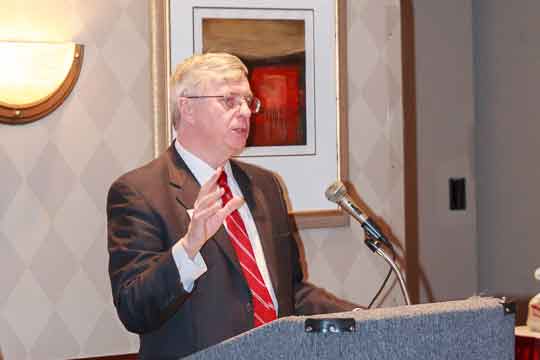 President Pat White began by thanking everyone for being there. He then talked about what makes Wabash College special. As an opening, he pointed out that his wife Chris has been a engaged and active first lady. Chris has been a great supporter of Wabash but her impact has also reached into Crawfordsville and the surrounding areas.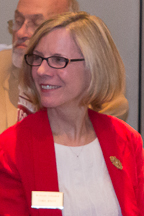 In essence, Chris has lived and modeled the Wabash mission statement of thinking critically, acting responsibly, leading effectively, and living humanely.
President White recounted some of the challenges of the past seven years but in a way that highlighted the achievements of the Wabash community during that period. He leave's Wabash well positioned to continue to make great strides in the coming years.
White also explained to the young men considering Wabash the impact the College can have on their lives. That message was reinforced by the alumni in the room.
The Cincinnati Group presented Pat and Chris with a book of the works of famous Ohio designer Charley Harper entitled: Charley Harper's Animal Kingdom - New!
Many thanks to Roger Billings '59 and Bill Augspurger '64 for putting together a great evening. Thanks as well to Dean of Admissions and Financial Aid Steve Klein and Admissions Counselor Jordan Carlson for bringing a great group to the dinner.
More News
---
---
Photo Galleries

Cincinnati Dinner