Works On Paper: Drawings, Prints, and Photo
by Tom Runge • January 14, 2013

Share:
Works on Paper: Drawings, Prints, & Photographs from the Permanent Collection
January 18 – February 27, 2013

Eric Dean Gallery, Fine Arts Center, Wabash College

Gallery Hours: Monday-Friday 9–5, Saturday 10–2

Admission is free, open to the public, and handicap accessible.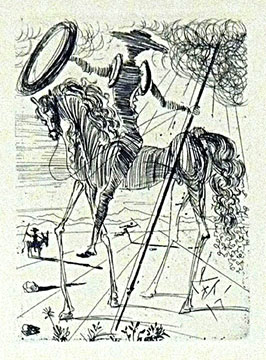 The exhibition features a wide range of works on paper from the Wabash College Permanent Collection of Contemporary Art. While curated to enhance teaching and learning of the studio arts and art history classes during spring semester, the exhibition gives viewers an appreciation of the breadth and depth of the permanent collection. The works showcase the artistic vision of numerous contemporary artists, as well as a few well-known masters, including Dali and Picasso. The drawings, prints, and photographs encompass a wide range of media, highlighting the diverse formal, material, and conceptual approaches to art making.
An additional collection of contemporary prints is displayed in the Huebner Gallery in conjunction with the Works on Paper exhibition. The prints are a gift from Tom and Marie Stocks '73.