Faculty Profile - Patrick Burton
by Tom Runge • January 14, 2013

Share: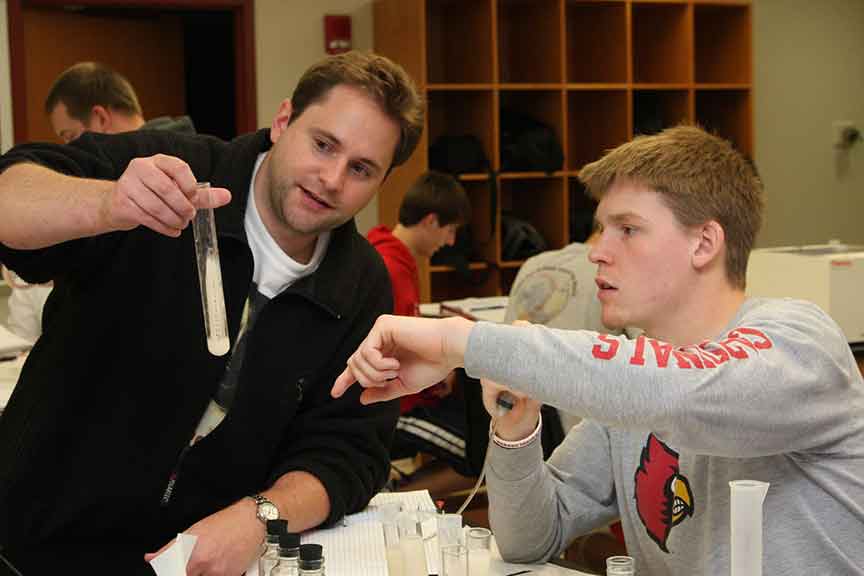 Name: Patrick Michael Burton
Background: I grew up in a family of four in Lockport, NY just outside of Buffalo. I attended Lockport High School before attending Williams College (earned a BA with honors in 2000). I went straight from undergraduate to graduate study at Boston University where I earned my doctorate in Biology (2005). From BU, I chose to work with Dr. Alexa Bely at the University of Maryland as a postdoctoral scholar before coming to Wabash.
Department and specialty at Wabash: Biology. My specialty is referred to as 'EvoDevo' – I study how the process of Development (the process of developing from a fertilized egg to an adult) has evolved over time.
Favorite part of Wabash: The relationship between faculty and students. I love the opportunity to truly get to know students, to mentor them, and help them on their life's journey.
Favorite place on the campus: The alcove on the second floor of Hays Hall where students come to study. I've some of my favorite interactions with students in this little nook as they work on problem sets and prepare for exams.
Favorite food: Cheese. I love small production, artisanal cheese; triple crèmes, gruyere, and goat's milk cheese are all phenomenal. Give me a selection of cheese, quality bread, and fresh fruit and I'm good to go.
Something most people don't know about you: I'm a collector. I have collected things throughout my entire life. Growing up I collected sports cards, mostly baseball. I eventually switched to collecting rare and first edition science books, including some first edition books by Charles Darwin and his contemporaries. Although I still collect books, my focus today is wine. I collect wines from all over the world, especially wines from Bordeaux, Tuscany, Piedemont, and California. My collection includes some pretty old bottles, the rarest of which is a 1933 Madeira.