Students Start Second Semester with HELP
• January 11, 2013

Share: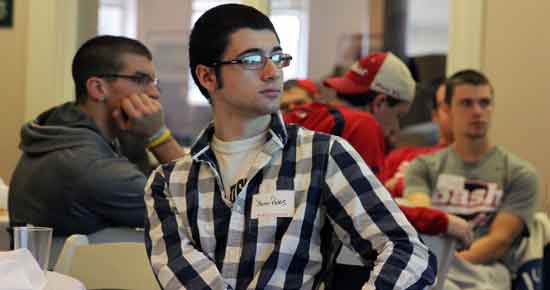 Students leaders gathered Jan. 11 to learn, share, and gain skills which will help them become campus leaders. The Wabash Housing and Education Leaders Partnership day-long workshop is a tradition at the beginning of each semester.
Fraternity officers and residence hall assistants gathered before Monday's start of classes for a wide range of presentations on issues affecting Wabash students.
The morning started off with a brief address from President Patrick White on leadership.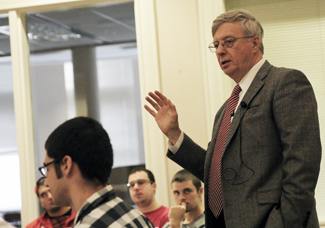 "Some of you here are transferring into a leadership roles," the President said. "But you're probably already a leader – that's part of what Wabash is all about. You were chosen, elected, or was picked because somebody else saw something in you that made them think 'this guy can do the job.' "
The President reminded the students that accepting leadership roles means accepting challenge. "There will come a time when you'll say why me? You don't have to always be right to be a good leader; you don't always have to have the right answer. A leader is always developing other leaders by handing out assignments or asking for help."
The morning program included sessions on: Pledge and rush, finance, scholarship, house management, social chairmen and risks, intramurals, and the fraternities' web presence.
Campus Security Director Rich Woods, Crawfordsville's Police Lt. Hal Utterback, and Fire Inspector Mark Evans then led a session on safety, security, and fire prevention.
The second breakout session covered wellness and illness, mental health challenges, along with first aid and CPR.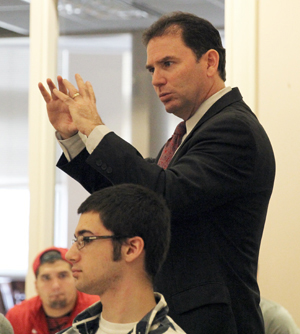 The final group session of the day was led by Wabash graduates and local doctors John Roberts and Scott Douglas. The two physicians covered signs and response to substance abuse.
The afternoon breakout sessions included administration and staff members leading the students in discussion on Honor Scholar Weekend, responding to crisis, conflict management, Career Services, Financial Aid, Counseling Center, and the Campus early alert system.
The day concluded with individual house meetings with faculty and alumni leaders.