Sponsler '16 Getting Comfortable at Wabash
by Scott Morrison '14 • January 8, 2013

Share:
It takes time for incoming freshmen to adjust to college workload. Ross Sponsler '16 has experienced this struggle, but feels like an old veteran in one spot on campus – on the basketball court.
Sponsler, who plays guard for the Little Giant basketball team, has been challenged in almost every way in his first semester. Early on, he struggled finding the balance between academics and athletics.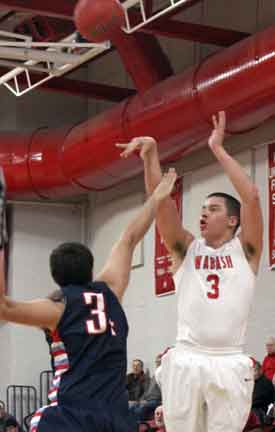 "I was really close to going to Indiana State and not continuing here, but I think the relationships that I have built with other guys have gotten me through it and Wabash has started growing on me," Sponsler admitted.
Starting point guard Houston Hodges '15 is one of the guys who really helped Sponsler acclimate to Wabash.
Apart from the daily Wabash grind, Sponsler has even been challenged in new ways on the hardwood. His grandfather introduced him to basketball at a really young age, and he has experienced a lot through basketball. This year brought a new first – injury. Sponsler suffered a knee injury early in the season and sprained an ankle before the Wooster game.
"I had never missed a game before this year because of an injury or anything like that, so that has been a little bit tough to deal with and has provided some adversity," he said. "But when I have played, it has been a good experience."
Despite the injuries, Sponsler maintains an uncanny comfort on the court. In a victory over Denison this year, he helped secure the game by scoring five straight points to answer a late Denison comeback.
"I don't think being a freshman has as big of a role in it as people [think]," Sponsler said. "No matter if it's D-III or D-I basketball, people put so much into being a freshman. I don't think it plays so much of a role in it. My teammates have confidence in me, and my coaches have confidence in me to take important shots and make them. That's why I take them."
Sponslor led Wabash with 21 points Jan. 5 in a triple overtime win over Allegheny. He was named NCAC player of the week and named to the D3hoops.com team of the week.
This confidence has not gone unnoticed by the coaching staff. "Ross isn't your typical freshman," Coach Antoine Carpenter said. "He has a strong willpower for excellence and basketball IQ. Late in the game versus Denison, he was able to make some big plays. I think it was just his competitive spirit and natural instincts for the moment."
Sponsler is already a big offensive threat. While shooting is now the strongest aspect of his game, it took a while for Sponsler to come into his own at Terre Haute North High School. "In high school I really didn't come out offensively until my senior year, just because that was the way our system ran," Sponsler said. "But I have always been a pretty solid offensive player so that's what I'm hoping to carry on here."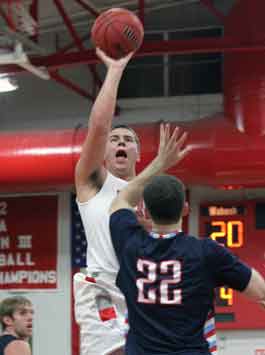 Sponsler wants to improve his skills at point guard to contribute when Hodges and Evan Johnson '13 need a break from running the offense. Carpenter believes the sky is the limit for the freshman.
"He has all the tools to develop into one of the great scorers at Wabash," Carpenter said. "He can shoot it, finish at the rim, and get to the line. But more importantly, not only can he score, he's a great teammate and has the ability to get others involved."
Sponsler came to Wabash because of the academics, alumni network, and the brotherhood. He looked at DePauw, St. Francis in Fort Wayne, and Hanover, but the brotherhood of Wabash made his decision easy. So far he has relished the physical play of the NCAC and is looking forward to playing DePauw.
"I have a couple friends back home that are going to DePauw, so it'll introduce a new type of rivalry to me," Sponsler said. "Terre Haute North was always rival of Terre Haute South, so coming here and having a big time rival in DePauw was important to me because that's familiar to what I had in high school."
Sponsler is considering political science or rhetoric for his major, but he has some time to figure out his academic path. For now, he knows he and the team can improve, and he will keep enjoying the relationships he's found at Wabash College.