Locksmith '16 Helps Wrestlers Start Fast
by Jocelyn Hopkinson '15 • January 3, 2013

Share:
The tenth-ranked Wabash College wrestling team has had a strong start to its season after recording a whopping 21 top-eight finishers at the Indiana Little State Meet Dec. 1 at the University of Indianapolis. A week later, the team traveled to Chicago for the North Central College Invitational and the Little Giants came home with first place.
As the results from the Indiana Little State Meet suggest, the early accomplishments have been due to a collective team effort. One of the key contributors has been freshman Tim Locksmith, who has posted a 9-2 record through his first 11 collegiate matches.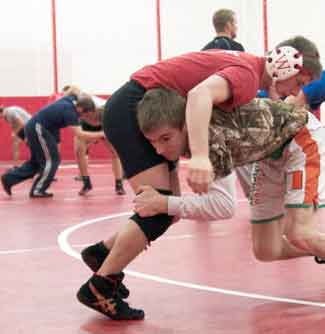 "He's definitely a wiry and lengthy guy," Coach Brian Anderson said about the 5'10, 133 pound Locksmith. "I tell coaches all the time he has to be one of the biggest '33 pounders in the country. The bigger you can be in the weight class is obviously a huge advantage."
Any success by a freshman raises eyebrows, but what's even more intriguing about Locksmith is the adversity he's dealt with already. A shoulder injury suffered in high school has reared its ugly head and is holding him back.
"I'm not at my best right now," he said. "I don't want to make excuses but I have shoulder issues that are bothering me. I tore my labrum and rotator cuff in my junior year of high school and it required some extensive surgery."
Anderson admitted to seeing some difficulties too. But he also has a lot of excitement for when Locksmith is fully healthy.
"His two losses are to the returning national champion and the guy that took third and he was in both of those matches," Anderson said. "To see a freshman with a banged up shoulder do those kinds of things, it helped drive us to the decision we've made for the next three weeks to rest and rehab him. I know if he's 100 percent, he's one of the best in the country, hands down."
Locksmith isn't the only injured Little Giant and he's not the only one to get some rest over winter break. The team decided to withdraw itself from a meet at the University of Indianapolis on December 15. Wabash's next meet isn't scheduled until January 5 at Knox College.
Locksmith has had success with the bum shoulder before. The injury occurred the week before districts his junior year. The Kissimmee, FL., athlete showed some real grit and wrestled through the post season to finish in sixth place at the state championships.
"In retrospect, I sometimes regret not getting it looked at because I probably caused more damage to it," Locksmith admitted. "If anything, I proved to myself I can work through adversity. I was wrestling with one arm through districts and state."
Locksmith finished in third place in healthy sophomore and senior seasons and qualified for state as a freshman.
"He's tough on top and when you get a guy that long and lengthy on top, it's almost like you have a blanket on top of you and can't get it off," Anderson said. "He's a leachy wrestler when he's on his feet. He stays low to the floor so he's tough to score on, and if he takes your wrist, you're not going to get it back. It's kind of like having a pair of vice grips on the end of his arms."

The freshman also has a grip on the reason why men go to Wabash. He's focused on his academics and aspires to be a craniofacial surgeon when he graduates with a Bio-Chemistry major.
"My dad is a doctor and he's always had me interested in the medical field," Locksmith said. "He talked to me about The Smile Train organization which sends doctors to impoverished areas and fix cleft lips in kids for free. That seems like something really nice that I would like to do; I could make a living and be happy with what I do."
Anderson added that his freshman knows why he's here. "His maturity level is very high for a freshman, on and off the mat. He's still a goofy college kid that's fun to be around, but he takes his academics very seriously."