Burton, Freeze, Gunther Granted Tenure
by Jim Amidon • December 21, 2012

Share:
Wabash College President Patrick E. White and Dean of the College Gary A. Phillips have announced the promotion and tenure of three members of the faculty. Biology Professor Patrick Burton, English Professor Eric Freeze, and Psychology Professor Karen Gunther have been promoted to Associate Professors and granted tenure at the liberal arts college for men.
"Faculty up for tenure demonstrate that they are excellent in teaching, research and/or creative work, and service," President Patrick White said. "Professors Patrick Burton, Eric Freeze, and Karen Gunther have all achieved much already in each of these key areas and we look forward to their continuing growth and development as teachers, creative scholars and writers, and campus citizens leading the College to new heights."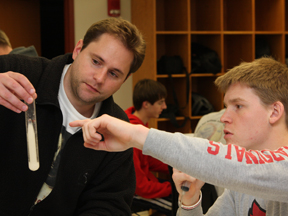 Dr. Patrick Burton joined the faculty in the Biology Department in 2007 after completing postdoctoral research at the University of Maryland. An honors graduate of Williams College, he earned his PhD from Boston University.
"I like how much the students love Wabash," Dr. Burton said. "Their love of the College leads them to have very high expectations of the faculty. This instills in me an important sense of responsibility to constantly improve."
His research focuses on the question of how some animals can develop their adult body plan multiple ways (e.g. embryonic, asexual, and regenerative development) while humans cannot. His research compares the molecular, cellular, and genomic mechanisms by which a species of sea anemone (Nematostella vectensis) accomplishes these three modes of development.
Students in Dr. Burton's upper-level courses often work in his research lab investigating developmental questions through a mix of independent research, hands-on experimentation, and primary literature review.
"I really enjoy working with the students. Their love of learning and strong work ethic allows me to challenge them in ways I did not anticipate. I love working one on one with students in the laboratory, which provides an opportunity to really help students learn what science is like. I also love that Wabash works to provide funding for student summer research internships. I had a similar experience as an undergraduate that helped define my eventual career path. I am glad to offer students a similar experience, regardless of where they go after Wabash."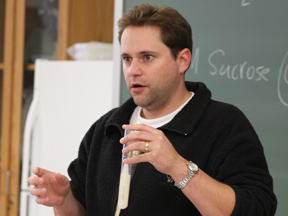 Dr. Burton teaches courses in human biology, genetics, developmental biology, and developmental mechanisms. "It is an exciting time for the Biology Department," he said. "We have the opportunity to think carefully about the department's curricular goals and how best to achieve them. I am looking forward to working with my colleagues in continuing to enhance the department's curriculum over the coming years."
"Students and colleagues comment on Patrick's passion, persistence, and ever-present dry humor, that humanizes both lab and classroom and succeeds in motivating students to love science and achieve their best," said Dean Phillips. "Collaborative problem solving and research with students is a center piece of his pedagogy. A collector of first edition books and fine wines, an advocate for involving underrepresent students in the sciences, Pat models Wabash-style liberal learning to his students and in so doing sets the achievement bar high for all of us."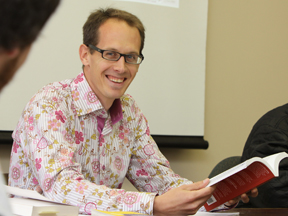 Dr. Eric Freeze is a native of Canada and earned his bachelor's degree and master of arts degree from Brigham Young University. He earned his PhD in Fiction Writing from Ohio University in 2004. Before coming to Wabash in 2008, Dr. Freeze taught for three years at Eureka College in Illinois. His creative writing classes have become especially popular, and he has woven immersion learning trips into his courses.
At Wabash, he teaches a range of creative writing courses, as well as classes on American Literature, Postmodern Fiction, and Contemporary Canadian Fiction. He has also taught Wabash's all-college courses, Freshman Tutorial and Enduring Questions.
"I'm thrilled to see our first cohort in the creative writing track graduate this year," Freeze said. "I find Wabash students generally willing to learn and to push themselves to get better. It's especially gratifying for me to see students catch the writing bug the way I did as an undergraduate. ... Every time one of my students says they read another book by one of our visiting authors or that they've been fiddling with a scene or a sentence until they felt like they were going blind, I'm thrilled. Something clicks. When they start to feel that compunction, that drive to push themselves to get better, that's when I know that they've become writers and no longer students looking for a grade."
Freeze has coordinated Wabash's Visiting Writers Series and is planning Writing Workshops in the coming semester. "I'm looking forward to the Wabash Writers' Workshop with Dan Simmons in the spring, and to all the talented writers we will have on campus: Pulitzer Prize finalist Karen Russell, award-winning essayist and novelist Brian Doyle, and a new up-and-coming author Matthew Vollmer. These authors bring a wealth of expertise and perspective to our aspiring writers. I hope for continued success in this program and for the development of other programs in English in the future."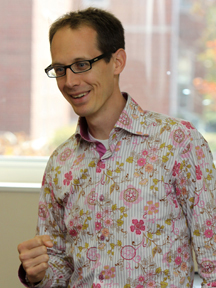 Freeze's other focus is research and writing. His stories, essays and translations have been published in a variety of literary journals including Boston Review, The Southern Review, New Ohio Review, and Tampa Review. His first book, Dominant Traits, is a collection of short stories and was published in 2011 by Oberon Press. Future projects include a second collection of short stories, a book of essays about France and odd sports, and a superhero-themed literary anthology. He also recently received a Canada Council grant to work on a novel.
Dr. Freeze organizes Ultimate Frisbee competitions on the College mall, which is one of the many things he enjoys about teaching at Wabash. "I like being able to play pick-up sports with students and have them (gratefully) drop the 'professor' bit and call me by my last name: Freeze! I enjoy my wonderful colleagues, the good conversations, the compactness of our campus. I like our beautiful brick buildings and the aesthetics of the grounds (who says that men can't match!). When writer Aritha van Herk visited, she said everything felt like a movie set, it was that perfect. I also like how it's become increasingly family friendly — that I can take my kids to soccer games or Wabash productions or fraternity dinners and feel like I'm at home, Dr. Freeze said.
"Eric's teaching prowess is demonstrated in the English Department classroom, through his prolific creative writing, and, yes, on the mall as an organizer of Wabash Ultimate Frisbee," commented Dean Phillips. "Across these different teaching and learning venues, students witness a type of engagement with persons and principles that calls on them to craft their own words and lives with precision."
Dr. Karen Gunther is the 16th woman to earn tenure at Wabash, where she began teaching in 2007. She is a graduate of Oberlin College and her master's degree and PhD from the University of California San Diego, where she completed a Cognitive Science Interdisciplinary Program with a focus on psychology and neuroscience. Prior to her arrival at Wabash, Dr. Gunther spent four years as in a post-doctoral fellowship at the Medical College of Wisconsin.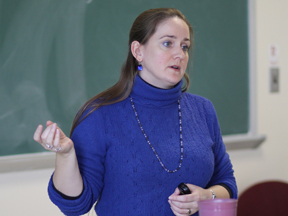 "I wanted to teach at a liberal arts college, because I like the small classes and interaction with students," Dr. Gunther said. "In graduate school I was a TA for classes of 200-400 students, and you can really only get to know the small handful who come to office hours. Here I can get to know most of my students; most of them are gentlemen and fun to work with."
Dr. Gunther's primary research focuses on color vision. The type of research she conducts, psychophysics, is at the intersection of psychology, biology, and neuroscience — human behavioral responses to visual stimuli are used to elucidate the underlying neural mechanisms.
Dr. Gunther teaches a range of courses, including Sensory and Perception, Cognitive Neuropsychology, Neuroscience, and Research Methods and Statistics. She has taken Wabash students to conferences to present their research, both regional undergraduate conferences and national professional conferences. "I really like the research-emphasis we now have in the Psychology Department, and the ability to do our own research in collaboration with students in the capstone course," Dr. Gunther said.
Professor Gunther is also studying teaching and learning, and is examining the use of non-fiction novels as the textbooks for teaching Sensation and Perception — to give the students more of a story line on which to hang the facts presented in class lectures.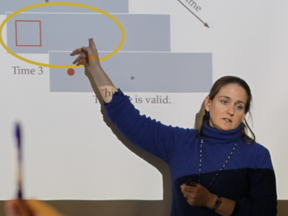 "Karen's teaching and scholarship are of a piece as demonstrated by her collaborative research and co-publication with students," said Dean Phillips. "Students praise her mentoring strengths: her insistence on carefulness, accuracy, and conscientiousness that motivates students to commit themselves to high academic and personal standards. She is not shy to tell students exactly how they may do that. And she expects nothing less of herself."
"At Wabash the decision to grant tenure to a faculty member is a very serious one that involves periodic formal reviews over a number of years and input from colleagues in the department, faculty from across the campus, students, and alumni," said President White. "Wabash undertakes this time consuming process so that we might be always assured that faculty awarded the great prize of tenure have shown not only what they have accomplished, but what they will continue to do as leaders of the College.
The promotion to Associate Professor is effective July 1, 2013.