Wabash's Mobile Application
by Tom Runge • December 18, 2012

Share:
Wabash College Mobile Site Information
Accessing the Mobile Web Site
The Wabash mobile web site is accessible from any device with a web browser, at m.wabash.edu. In most cases, if you visit the Wabash web site www.wabash.edu from a mobile device, you will be automatically redirected to the mobile site.
What's on the Mobile Web Site
The mobile web site provides easy access to the information you're most likely to need when on the go – news stories, events, campus map, directory information, and athletics information. It also offers easy access to admissions information (including a short form to refer a student), academic information, and campus office hours. If you need to access the full Wabash web site, there's a link at the bottom of the page. Here's a picture of the mobile home page: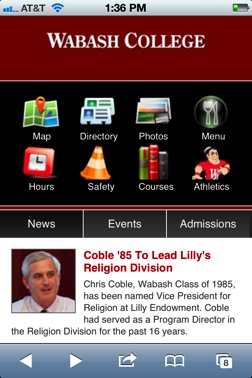 What about an app?
The mobile web site provides functionality similar to an app, but is cross-platform and works the same on all mobile devices. It's easy to add the Wabash mobile site to your phone home screen, whether you have an iOS or android device. If you have an iPhone, iPad, or iPod touch, click the

button at the bottom of the browser screen, and click Add to Home Screen.
From an android device, the steps may vary slightly depending on your device, but for most devices click the in the address bar to create a bookmark, then choose Add to Home Screen for the bookmark location.
With your Apple or Android device, you'll then have a "W" icon on your home screen that will take you to the Wabash mobile site with a single tap.