Coble '85 To Lead Lilly's Religion Division
• December 12, 2012

Share:
Chris Coble '85 has been named Vice President for Religion at Lilly Endowment Inc.. Coble had served as a Program Director in the Religion Division for the past 16 years.
"Throughout Chris Coble's 16 years of service to the Endowment as a program director in its religion division, he has demonstrated keen insights, strategic thinking, a collegial spirit, and a calling to strengthen and support congregations throughout the country and the pastors who serve them," said N. Clay Robbins '79, President and CEO of the Endowment. "He has a special interest in how the church can better engage younger generations in its ministries."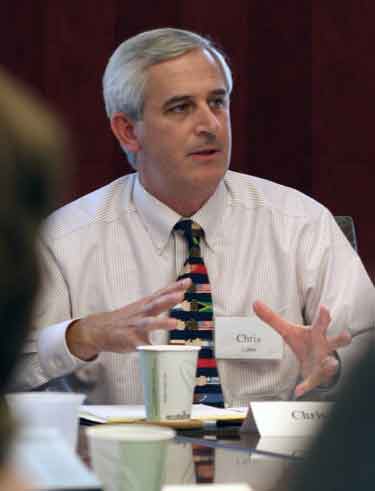 Coble was a member of Sigma Chi fraternity and a religion major at Wabash College.
"I am deeply honored to be elected vice president for religion and look forward to the challenge of keeping the Religion Division's good work moving forward," Coble said.
Raymond Williams, LaFollette Distinguished Professor in the Humanities Emeritus, was thrilled to hear Coble would be leading the Religion Division of Lilly Endowment.
"Chris has been an exemplary Honor Scholar as an outstanding religion major at Wabash and by his exemplary service implementing Mr. Lilly's religious commitments at Lilly Endowment," said Williams. "His new promotion to one of the most influential positions in American religion makes us very proud indeed."
Coble is ordained in the Christian Church (Disciples of Christ) and has served congregations in Indiana, North Carolina, Iowa, and Massachusetts.
He holds degrees from Wabash (A.B., summa cum laude), Duke Divinity School (M.Div., magna cum laude) and Harvard University (Th.D.). Trained as a historian of American religion, his research interests focus on issues of religious formation and the transmission of faith in Christian churches.
The Indianapolis-based Lilly Endowment is one of the country's largest private foundations, with assets of $6.2 billion at the end of 2011. Founded in 1937 by J.K. Lilly and his two sons, Eli and J.K. Jr., with gifts of stock in their pharmaceutical enterprise, the Endowment supports its founders' interests in community development, education, and religion. While gifts of stock in Eli Lilly and Company remain the financial bedrock of the Endowment, it is a separate entity from the company, with a distinct governing board, staff, and location.