Purvlicis Leading Outstanding Freshman Class
by Jocelyn Hopkinson '15 • December 7, 2012

Share:
"When the shot went up, I knew I needed to crash the boards," Daniel Purvlicis said.
That was his last thought before scoring a game-winning tip in for Wabash against Albion College.
"Ross (Sponsler) and I had a pick-and-roll going," Purvlicis said. "He drove it in and took the floater and I was going in for the rebound as the ball came off the left side of the rim. I was able to tip it in from there."
The freshman forward made the play in the final seconds to give his team its first win of the season. Purvlicis has continued to shine on the court; he's averaged 8.3 points per game while shooting over 50 percent and has started every game.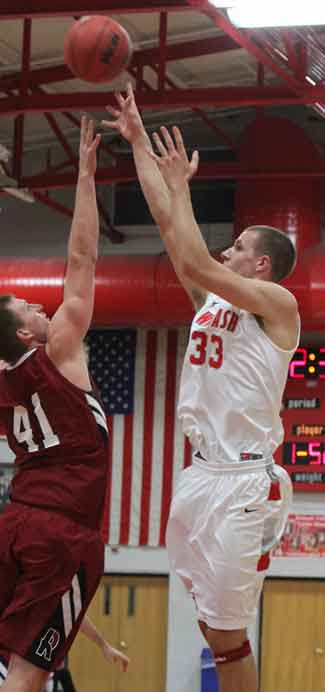 "Right now, he's doing a great job scoring the low post," Coach Antoine Carpenter said. "He's very active on the boards and has done a tremendous job of getting put backs. He brings a lot of excitement and has a lot of skill to step out and hit the mid-range jumper."
Purvlicis is part of the youth infusion to the basketball team. Four of the five starters are a sophomore or younger, including two freshmen (Purvlicis and guard Ross Sponsler). Purvlicis has noticed two main differences from high school basketball.
"Speed and physicality are definitely the biggest changes," he said. "The physical play is put into plain view playing against Pete (Nicksic) who's always in there banging on everybody. There are bigger guys but everybody seems to have mean streak and their movements are a lot more demonstrative."
At 6-foot, 7-inch and 235 pounds, junior center Pete Nicksic bangs on everyone in his way, including Purvlicis. At a wiry 6-7, 198s, he hasn't shied away from taking Nicksic on in the post. Purvlicis and fellow freshman big man, center Marcus Kammrath, practiced one on one moves versus Nicksic before training camp practices.
"The three of us started off the year going in before practice," Purvlicis explained. "Marcus and I were just learning how to get around and how to stop bigger guys. I would try to stop Pete or try to score on him. We were giving each other our best moves on offense trying to get the bucket and it has been really beneficial."
Purvlicis didn't wait for school to start before he built a relationship with his new teammates. Purvlicis, Sponsler, Nicksic, and a handful of other Wabash basketball players attended a summer tournament in Indianapolis against other teams that consisted of men and other collegiate athletes. The tournament's benefits transcended the playbook for Purvlicis.
"We didn't work on sets or anything; we just got used to each other's strengths and weaknesses against good competition," Purvlicis said. "It was odd at the start because not everyone knew everybody. But there was one day where we had two games which allowed us to hang out between games and get to know each other."
The extra time spent with his teammates has paid off for Purvlicis. He has become more of a vocal leader on the court despite only playing in six games.
"You can see him starting to speak up more and showing people where he wants the ball," Carpenter said. "He knows the game of basketball and does a good job working with his teammates."
Purvlicis's credits his high school coach Dave McCollough for his high basketball IQ.
"He put us through one of the closest things I've seen to a college program in high school ball," Purvlicis said. "Coach McCollough had us focusing on fundamentals and defensive principles. Those two things are the biggest help coming into Wabash. The learning curve was a lot smaller for me because I knew the defensive principals Coach Carpenter wants like help side defense."
Purvlicis started as a sophomore for the Noblesville Millers. His team made regionals that year and Purvlicis was exposed to top-level competition. His most notable high school opponent is Gary Harris from Hamilton Southeastern, who is now a starting guard for Michigan State University. Purvlicis had some success against the McDonald's All-American.
"I played him every year of high school," Purvlicis recalled. "I didn't technically dunk on him, but he tried to block my dunk in the sectional game last year. It didn't work because I was still able to finish it."
The top-level competition Purvlicis faced in high school also included players who are playing basketball for Indiana University and Kansas State University.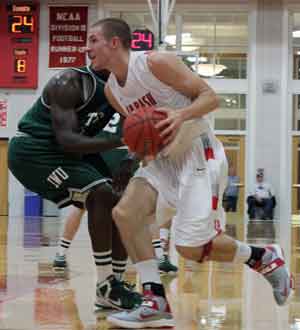 "We played against much higher level of competition in high school," he said. "Facing all the Division I athletes really helped prepare me to play college basketball."
Purvlicis faces just as big of challenges off the court as well. As a freshman in the Beta house, he's enduring the challenges of pledge ship.
"Being a pledge is always fun," he sarcastically said. "It's difficult but it helps a lot. Study tables keep us on a rigorous schedule and help us make grades. Coaches are also big on grades. They refer to us as scholar athletes, not student athletes."
He currently plans to major in rhetoric with a minor in economics.
Grades aren't the only thing coaches are big on; they're also big on Purvlicis. Carpenter sees a bright future for him.
"He's going to continue to get better. It's just a matter of knowing the game and getting used to the physicality of the game."