2012 Chicago Holiday Luncheon
by Tom Runge • December 5, 2012

Share:
The Annual Wabash Club of Chicago Holiday Luncheon was the largest recently and the reason was clear - President Andy Ford H'03, Wabash's 14th President, was inducted into the Wabash Athletics Hall of Fame. Andy and Anne couldn't be on campus for the normal induction ceremony due to a prior engagement. No problem - we took the ceremony to them!
Greg Jania '93, president of the Wabash Club of Chicago served as the emcee for the luncheon and Greg Castanias '87, president of the National Association of Wabash Men, made a special trip from the Washington, DC area to make the presentation to Andy. Andy was lauded for his visionary leadership at Wabash and his resolve to provide the entire learning experience to our young men by giving them the opportunity for a first class fitness facility.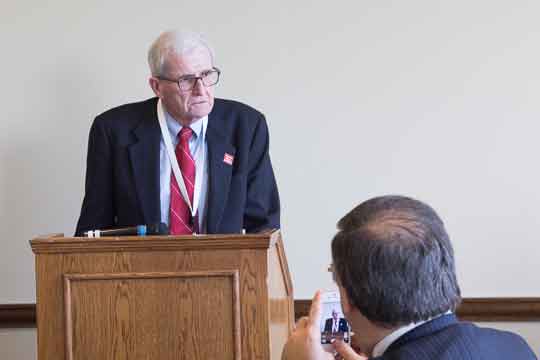 Andy thanked the group and recounted how his initial reaction to the congratulatory letter was to think it was a joke! Andy talked of the effort to build the Allen Center and how it's most important facet is to offer anyone in the Wabash community the opportunity for increased fitness.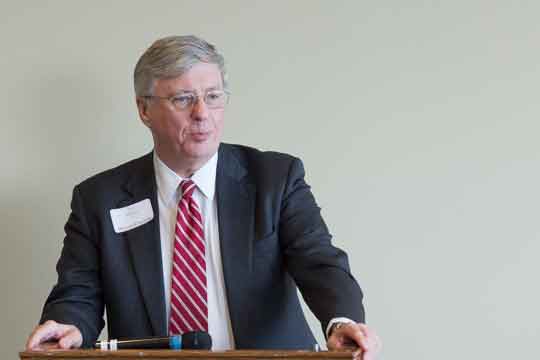 President Pat White offered the attendees an inside look at Wabash, mentioning some of the accomplishments of our athletes. Not just athletic accomplishments, but their all star efforts as students. He talked of Pat Clegg and Weston Kitley, both standout football players and Chemistry majors, and their work in the lab. He talked of the importance of our immersion trips - life changing events. He closed reinforcing the nature of a Wabash education being a transformational experience in every way and that this is possible because of involved and engaged alumni.
More News
---
---
Photo Galleries

Chicago Holiday Luncheon 2012