Monon Bell DVDs Are Here
by Jim Amidon • December 5, 2012

Share:
The commemorative DVD of the 119th Monon Bell Classic has arrived in the Wabash College Bookstore. Quantities are extremely limited, so plan to pick up your copy as soon as possible.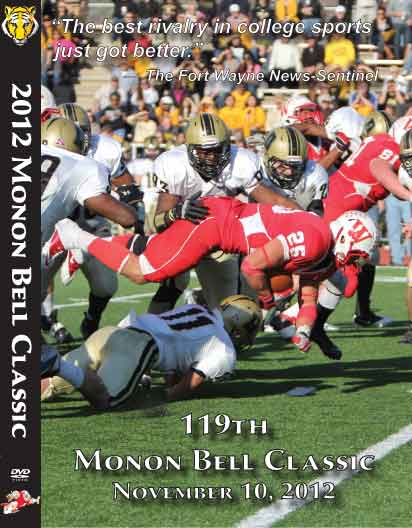 The DVD includes every play of Wabash's 23-0 win over DePauw — the fourth straight victory by the Little Giants over the Tigers. This is the AXS TV telecast featuring Kenny Rice on play-by-play, Paul Maguire on color, and former players Matt Hudson and Brad Wochomurka on the sidelines.
The DVD is filled two hours of additional content, too.
Also included on this limited edition DVD are photo galleries (2012 and historical), AXS TV's features on Weston Kitley, Jake Waterman, and the Arts at Wabash, and both schools' halftime commercials.
There are also season highlights for both teams, as well as pre-game media coverage. And, as always, there are Monon Memories plucked from the archives (1912, 1919, 1932, 1943, 1954, 1979, and 2011).
Copies of the DVD — as well as most of the DVDs made from the last dozen Monon Bell Games — are available in the Wabash Bookstore or can be ordered online.