State AG, Lawmaker Discuss New Lifeline Law
by Scott Morrison '14 • November 14, 2012

Share:
"Wabash has always been a proponent of doing the right thing particularly when it comes to helping our fellow man," Dean of Students Michael Raters said in his opening remarks Wednesday afternoon at the Indiana Lifeline Law information session. Indiana's Lifeline Law is one more piece of legislation aimed to help students do the right thing.
Indiana Attorney General Greg Zoeller and State Senator Jim Merritt, author of the Law which passed in March, visited Wabash as part of a tour of high school and college campuses to educate young people on the dangers of binge and underage drinking. They have already spoken at several high schools and colleges like Indiana, Ball State, and Purdue.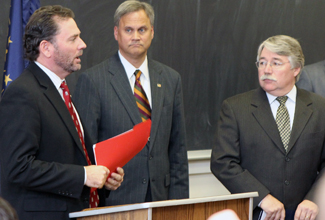 The Lifeline Law provides immunity to underage drinkers who call 911 for a non-responsive or in-danger friend. Currently 10 other states have laws similar to Indiana's Lifeline Law.
One thing the two made clear was that immunity can be given to everyone present, not only the caller, but that immunity is discretionary. "I really think it is up to the police officer. If no one is causing any problem (I don't see charges being pressed)," Merritt said. "The bottom line is saving lives."
Zoeller and Merritt believe that education is key with the law. "I am pleased you (Wabash students) know about it, because most people don't know about it," Merritt said. "I believe it will save lives, and I don't believe the Attorney General and I are going away on this issue. We will continue to educate and talk about people making good decisions."
Administration members, student body leaders, and fraternity presidents were present to learn more about Lifeline.
The Law was not simply a government invention. "Student leadership should be given credit for this law," Zoeller said. "A number of student governments at universities and colleges around the state were the voices that brought this bill to the legislature's attention. It really shows the power of student voices being heard."
Later this week, fraternity presidents, RA's, and Dean Raters will meet to discuss the law.
"The Lifeline Law sends a message that doing the right thing will also be supported by the state and our prosecution and law enforcement." Zoeller.