Seniors Want to Go Out With a 'Ring'
by Jocelyn Hopkinson '15 • November 8, 2012

Share:
Only nine classes have secured the Monon Bell in each of their four years on campus. Seniors will have the opportunity Saturday to become the tenth when the Wabash College Little Giants battle DePauw in the 119th Monon Bell Classic.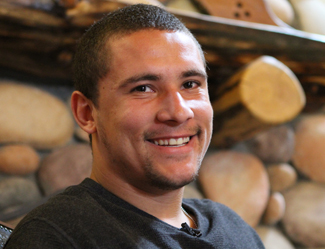 "As a team, we had higher goals for the year," senior cornerback Austin Hodges said. "But at the point we're at now, we can hang our hat on winning the bell all four years. It would mean a lot to every one of us."
A playoff spot is out of the equation for the Little Giants. But when the rivals kickoff at 1:07 p.m. Saturday at Hollett Little Giant Stadium with a national television audience, the battle for the 300-pound Monon Bell will be enough motivation for the Class of 2013.
Last week gave guys a chance to think about what a fourth Bell Game victory would mean.
"When we leave here, we'll have a ring from last year, memories, and our Bell Game record," senior left tackle Weston Kitley said. "If we finish 4-0 in the game, it will be our last accomplishment together."
Seniors have realized it's most likely their last week for football. Hodges, Kitley, and special-teams player Kyle Bottos took time to reminisce over their previous four years. They shared memories across a kitchen table on a late night early in the week. Some of their memories go beyond the sidelines.
"This is a memory tonight," Hodges said. "I don't think I played football for football. I played for this. Weston, Bottos, and I have been hanging out for three hours now. I'll remember nights like this more than I'll remember scores."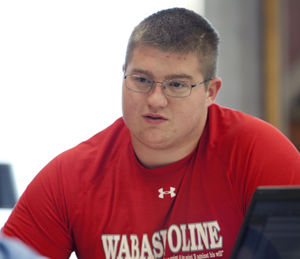 Kitley remembered more than just games too.
"I'll remember random practices and the different personalities on the team," he said. "Something like standing around during a cold practice waiting for my turn to go back in and having different conversations with guys is what I'll keep with me."
The game still holds ample memories for the seniors. Hodges witnessed the game's importance when he and other teammates visited the College Football Hall of Fame where the Monon Bell Classic has its own display.
"A lot of people get to play games, but how many people play a game that is this important?" he questioned.
Pressure is another aspect that comes with the Bell Game. Each play is magnified and players will sense the heightened pressure.
"It's the one game a year where you're not playing only for your team, but also the entire school," Hodges said. "Either consciously or subconsciously, you carry that weight on yourself."
The personal confrontation for the players is to turn that pressure into motivation. Kitley once had a coach tell him to "turn butterflies into bald eagles." Pride will be Bottos's motivation.

"It's a privilege to be out there," he said. "That makes you play even harder. You just want to cherish every snap of the game."
Hollet Little Giant Stadium will also contribute to the pressure.
"I want to say I'm focused 100 percent of the time, but I catch myself admiring the pride that exists in the stands," Hodges admitted. "You'd have to be blind not to notice the extra seats and fans."
It will only take Hodges until the "first smack of helmets" to remind him it's still a football game. Kitley, meanwhile, said he never calms.
"I don't think I ever really settle down. There are some games that can lull you but in the Bell Game, I get down into my stance and I can't hear a damn thing. It's impossible to tune out the atmosphere at the game."
Calm or not, Kitley, along with his senior class and the rest of the football team, will lay it on the line one last time Saturday. A win will cement the Class of 2013's place in Wabash lore.
"If I had any other way to go out besides the playoffs," Hodges said, "it would be to dominate DePauw with the guys I came in here with."