Studio One-Acts Continue Tonight
by Jim Amidon • November 6, 2012

Share:
The Wabash College Theater Department features a slate of seven short plays written, directed, and starring Wabash students. The annual Studio One-Acts will be performed 8 p.m., tonight in the Experimental Theater.
Tickets are not required, but seating is limited. Some of the plays include adult content, and the total run time for the productions is one hour.
"In many ways the Student-Directed One Acts Project is a centerpiece of our theater program," said Theater Professor Dwight Watson. "The Project allows us to scaffold several theater classes. Students in the introductory acting class work with theater majors in the directing class to produce and present plays written by students in the playwriting class. The scaffolding also involves interlocking efforts from our design and technical students."
This year's slate includes original productions written by Joel Bustamante '11, Jordan Plohr '12, James Morey '14, and Sam Bennett '14.
Han Nie '15 is directing three of the plays, while Joe Mount '15 and D.J. Young '13 are each directing two of the shows.
Josh Lutton '14 designed the costumes for all seven shows, while Phil Robin '13 designed the lighting.
"The aim of the Project is to give non-majors a meaningful theater experience while our majors apply classroom instruction to creative inquiry, performance, and managerial leadership," said Professor Watson. "It is the high level of expression, student interaction, collaboration, and commitment we value in Wabash theater and the arts."
The comedies include Bustamante's The Sun Swings at Star Rise, which is directed by Nie and stars Michael Holmes and Jake Peacock.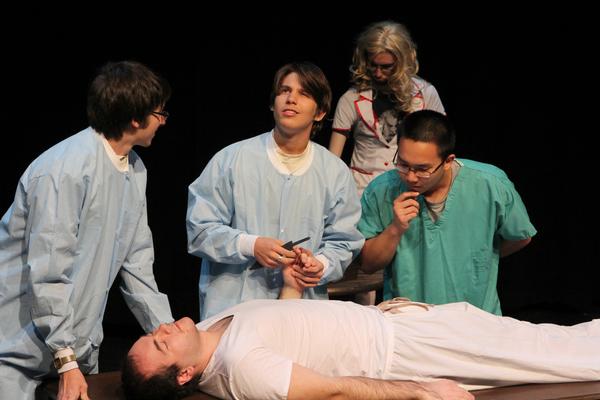 Jordan Plohr's "Tea Time" series will be presented in its entirety. Young will direct Tea Time on Wednesday, which stars Noah Eppler, Calvin Smith, Patrick Kroll, Zach Canon, and Natalie Coronado.
Mount will direct Tea Time on Thursday, which stars Mahlon Nevitt, John Beardmore, Ryan Guerrettaz, and Jake Peacock, and also Tea Time on Saturday with Patrick Korll, Anh H. Nguyen, Mahlon Nevitt, and John Beardmore.
Nie will direct Tea Time on Friday with Zach Canon, Max Gallivan, Ted Nilsson, Max Nguyen, and Michael Holmes.
Nie will also direct The Examined Life, which was written by James Morey and stars Ted Nilsson, Max Gallivan, and Natalie Coronado.
The final play, Existential Excretions, was written by Bennett and will be directed by D.J. Young. It features actors Dalton Boyer, Methuselah Gee, and Romeo Amoa.
More News
---
---
Photo Galleries

2012 Theater One-Acts Project