Wabash to Host Japanese Education Officials
by Kelly McDorman • November 4, 2012

Share:
Wabash College, the Center of Inquiry, and the Higher Education Data Sharing Consortium (HEDS) will host a group of educators from Japan, Nov. 6-7, 2012. The visitors represent four universities in Japan as well as their Department of Higher Education.
The Center and HEDS were asked to host the delegation by Randy Swing who is the Executive Director of the Association for Institutional Research, an organization that HEDS and the Center of Inquiry have been active with for some time. The delegation is primarily interested in learning more about study abroad. Secondarily, the group is interested in learning about collaboration with other institutions and the benefits of creating consortia and sharing information with other institutions.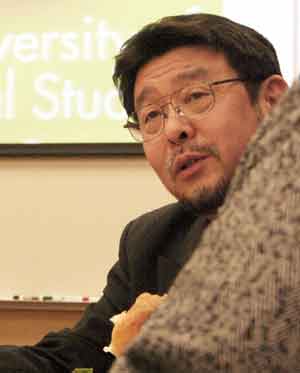 Leading the delegation is Mr. Atsushi Hamana, the President of Kansai University of International Studies. Also visiting is Mr. Shuichi Tsukahara, the Director of the Department for Higher Education National Institute for Educational Policy Research. Five faculty members are in the delegation: Mr. Hideki Yamamoto, Associate Professor, Faculty of Education, Kansai University of International Studies; Ms. Chie Kasahara, Associate Professor, Faculty of Education, Kansai University of International Studies; Mr. Shumpei Yaoita, Lecturer, Faculty of Community Studies, Shukutoku University; Mr. Kazuhisa Tomioka, Professor and Director Educational Affairs, Hokuriku Gakuin University, and Mr. Shuichi Tamura, Research Associate, Faculty of Childhood Education, Research Institute for Higher Education, Kurashiki Sakuyo University. Mr. Takashi Ikeda, from the office of the President of Kansai University of International Studies is a member of the delegation and worked closely with HEDS and the Center of Inquiry on the visit.
The delegation will be welcomed to Wabash College by President Patrick White. They will first meet with Charles Blaich and Kathy Wise who will discuss findings on study abroad from the Wabash National Study as well as the Study Abroad Learning and Cost Alliance of the Great Lakes Colleges Association and the Associated Colleges of the Midwest. They will also discuss working in collaboration with other institutions with examples from the Wabash National Study and HEDS. David Clapp, Wabash's Director of Off-Campus Studies and International Students, will discuss the specifics and logistics of our study abroad opportunities including how our students are guided through that process before, during, and after the trips. Gary Phillips, Dean of the College will talk about Wabash's plans for assessing study abroad and immersion experiences with the group.
In addition they will meet with several Wabash faculty members who will discuss the wide range of study abroad opportunities that Wabash College offers including traditional long-term study abroad, our Ecuador program, as well as course specific immersion trips. Those faculty include, Professors Kealoha Widdows, Gilberto Gomez, Daniel Rogers, Jeremy Hartnett, Jane Hardy and Peter Mikek. Several Wabash College students who have studied abroad or participated in immersion trips will join the delegation for lunch including, Jose Herrera, Michael Carper, Matthew Paul, Keaton Becher, Hung Duong, Riley Floyd, and Yujiro Muranaka who is an exchange student at Wabash College this year from Waseda University in Japan.
Finally, several people meeting with the delegation will discuss the new Asian Studies program and our collaboration with DePauw University on that project. Joining the group from DePauw University will be Hiroko Chiba the Marguerite Andrade Professor of Modern Languages, Associate Professor of Japanese, and Director of the Asian Studies Program and David Berque who is a Professor of Computer Science.
Kelly McDorman is the Assistant to the Director for Project Management and Program Evaluation in the Center of Inquiry at Wabash College