Alums Key to Top 10 Student Visits
by Howard Hewitt • November 2, 2012

Share:
Alumni return to the College regularly for all sorts of activities. But some of the most important visits are during visitation days to share with high school students their Wabash experience.
A large group of students in the top 10 percent of their high school class visited Friday to consider Wabash as their college destination. The structured day included a morning welcome and keynote address from Kelly Pfledderer '96, founder and President of Apparatus, Indianapolis.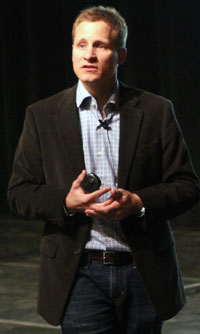 Pfledderer got the young men's attention by illustrating the evolution of computers and, specifically, video games and music devices. When he enrolled at Wabash in 1992 the internet barely existed and his much-honored and growing personal business didn't exist.
"At Wabash you learn what you're not good at," he told the students. Pfledderer discovered he might not be cut out for biology and a career in medicine. But a job working in the computer center excited him. "I was always a 'fix it' guy," he explained. "I just got stopped in my tracks thinking that I could get paid to fix computers."
Pfledderer was hired to work in IT Services at Wabash after his 1996 graduation but two years later opened his one-man Apparatus company. The firm has grown to 140 employees today and is consistently recognized as one of Indiana's top entrepreneurial businesses and one of Indianapolis' best places to work.
Pfledderer's point was that young men should keep an open mind. Pfledderer has made a very successful career from a business that didn't exist when he was at Wabash as a freshman. His point was evident that a successful foundation for any career, regardless of a college major, can be a liberal arts education.
The students moved to Salter Hall later and heard from an alumni panel. The students heard about each alum's personal Wabash experience. The panel also took questions.
Afternoon academic sessions, meetings with coaches, and tours rounded out the day.