Whisman '14 Plays Key Role for Football
by Scott Morrison '14 • November 1, 2012

Share:
It's third down in the fourth quarter and the Wabash defense needs a big stop. The opposing team snaps the ball and Wabash sacks the opposing quarterback or intercepts the ball. The fans go crazy, and the Little Giants win the game.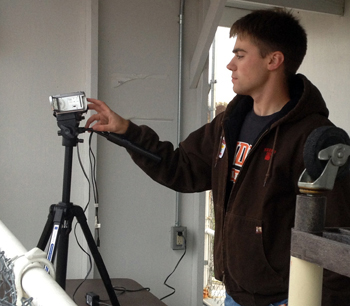 That is a familiar fall scene on Saturdays in Crawfordsville. While the team gets all of the glory, a lot goes on behind the scenes to help Wabash play to its highest level. Nathan Whisman '14 is one of the football team managers who videotape practices and games – a job not many fans think of, but one that is key to any team's success.
The Little Giant football team has a small army of film guys work with them on a weekly basis. Whisman shoots the wide angle of the entire play from the press box for practices and games. Jerel Taylor '16 films practices from the end zone view. Rudy Altergott films offensive and defensive line at practice and games from the end zone, and Vince Dao '15 also films for the team.
Whisman, and guys like him around the country, puts in almost as many hours as the players do each fall. Players and coaches on every level watch film to improve their team's play, and Whisman takes a special pride in being part of the team's efforts. "I feel like I am a part of wins on Saturdays," Whisman said. "Film doesn't lead to all of the success. I am not making an interception to win the game, but at the same time my film can help lead to a game winning interception or touchdown. I get a lot of satisfaction from the team's success."
Like any other Wabash athlete, Whisman faces the crunch for time in season to focus on school work or social life. "Socially, with clubs and what not, filming hinders me," Whisman said. "Academically it makes it more stressful, but it also makes me work harder too because I don't have the luxury of procrastinating. I have to film and then I have to do homework which is a good thing. It gives me initiative."
Despite the pressure and stress football season brings, Whisman loves his job. "It does get monotonous at times, but the Saturdays make it worthwhile," Whisman said. "Freshman year we didn't get to go to the playoffs, so I didn't get to have that experience. Last year when we went that far into the playoffs, it was unbelievable. It was cool to think that was one of four games going on in the nation and I was filming at one of them."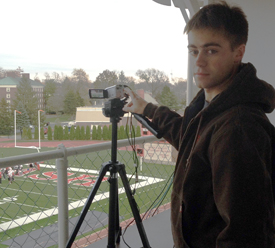 Whisman began the hobby his sophomore in high school at Hamilton Heights just north of Noblesville. He was a manager for several teams there and eventually was asked to film for those teams and football as well. He filmed football and girls and boys basketball at Hamilton Heights. "I guess the word just passed around that I was good at filming, and they asked me if I was interested in doing it," Whisman said.
Looking back, Whisman feels a little regret at not playing football or another sport in high school, but believes filming is a great niche for him. Whisman had many doors open to him because of his managing, but Wabash was the right fit. "One of the coaches I worked for my senior year in high school kept telling me when I was applying to colleges that if I wanted him to put a word in at Division I schools that I could film, he would gladly do it," Whisman said. "One school that kept popping up was Notre Dame. That was nice, but I didn't want to go to a big school. Wabash was just the right fit feeling. I applied to all small schools and felt at home here."
Aside from filming for the football team, Whisman is a Phi Psil, history major and hopes to pursue a career as a teacher of an athletic director. For now though, he will stay busy over the next two months putting in countless, thankless hours with the football team, but he has no problems with that.
"I do it because I love the sport," Whisman said.