Students Evaluate Final Presidential Debate
by Patrick Bryant '16 • October 23, 2012

Share:
Wabash students had the opportunity to watch the last of the three presidential debates Monday night and then participated in a post-debate discussion led by rhetoric professors Sara and Jeff Drury.
All three presidential debates were televised in Hays 104 where pizza was provided and a half-hour discussion was held afterward. More than 250 students turned out for the three events, and Professor Sara Drury was thrilled with the discourse.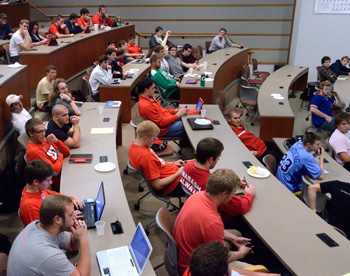 "It's been tremendously exciting to see students show up," Drury said. "It's exciting to be on this campus in this moment where there are students engaging with the election and talking about it."
Sophomore Nick Freeman said he didn't like the fact that both candidates didn't seem to author their policies, but were instead figureheads who were simply speaking on behalf of their advisors and staffs.
"It is very much a contortion contest," Freeman said. "We're no longer asking for a president who knows a lot about a variety of issues, how to answer questions about them, and how to deal with them. You're asking for a guy who looks pretty and who can talk eloquently, that's what it's become. Sadly, I wish we had [candidates for president] who could sit down and articulate on an adult level how to do things — not only foreign policy, but domestic policy, economic issues and military issues, and all sorts of stuff. That would almost be the epitome of a president, but no, you basically have two people who rely on their advisors.
Thie notion of them sounding the same was something mentioned by many of the students in the post-debate discussion.
Freshman Max Millott said that what struck him was there wasn't much disparity between the last debate's advertised focus on foreign policy and the first two debates.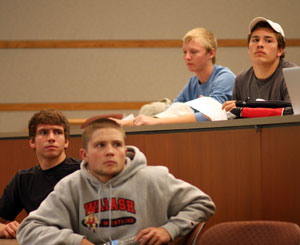 "I feel like the reason they have multiple debates is so you can introduce new ideas with each debate, but I haven't seen a new idea produced since the second debate," Millott said. "The last two debates were literally about the same stuff. I haven't heard a new concept or policy, like the five-step plan comes up every single time, Benghazi has come up every single time, China and the currency manipulation every single time, but it's like that maybe the questions need to be different, or maybe it's there's just nothing else to talk about."
Drury said that the debate's role, although important on its own as foreign policy, also needs to bring up domestic and economic policy as a way to argue for a strong national security and foreign presence.
"Economics being a part of foreign policy and national security strategy is not new," Drury said. "It was a central part of foreign policy and national security strategy during the Cold War. Just because they went into economics doesn't mean they weren't discussing foreign policy."
Drury said a difference was Tuesday's debate didn't have the sharp ideological differences of previous discussions on foreign policy.
"I think in some ways the debate tonight showed what we talked about in our discussion," Drury said. "There is a consensus among our two national candidates in many ways about what to do about foreign policy, or at least the goals that each candidate expressed they wanted to achieve, so we don't have the same foreign policy differences we've had in 2004 or 2008. Tonight, there was not as much clash as we've seen in previous debates and I don't mean that in an aggressive way, I mean that in an ideological way."
More News
---
---
Photo Galleries

Presidential Debate Watch