Author Bonnie Jo Campbell to Give Talk
• October 22, 2012

Share: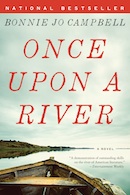 Wabash College Visiting Artists Series will present writer, Bonnie Jo Campbell, author of the national bestselling novel, Once Upon a River. Campbell will read from selected works at 8 p.m., Wednesday, October 24, in Korb Classroom in the Fine Arts Center. A question and answer session will follow her reading.

Campbell's bestselling novel, Once Upon a River (2011), is about a river odyssey with an unforgettable sixteen-year-old heroine. The New York Times book review declares, "its, rather, an excellent American parable about the consequences of our favorite ideal, freedom."

Campbell first novel, Q Road, delved into the lives of a rural community where development pressures bring unwelcome changes in the character of the land.

Her critically acclaimed short fiction collection, American Salvage (2009), was a finalist for the National Book Award and the National Book Critic's Circle Award. The collections consist of 14 stories of folks who are struggling to make sense of the 21st century.

Campbell's other books, Women and Other Animals, won the AWP prize for short fiction and her story, The Tatoo, is included in the anthology, Shadow Snow, a tribute to Ray Bradbury. The Smallest Man in the World, was awarded a Pushcart Prize and The Inventor, 1972 was awarded the 2009 Eudora Welty Prize from Southern Review. She is a 2011 Guggenheim Fellow.

Campbell's talk is free and open to the public; tickets are required and can be reserved by calling 765-361-6411. Tickets will also be available at the door.