Batchelder '15 Excels in Classroom, Pool
by Joceyln Hopkinson '15 • October 18, 2012

Share:
Juggling school and sports is a difficult task for every student-athlete. Many freshmen are drowned by the tidal wave of homework. However, Swimmer Steve Batchelder has managed to keep his head above water. The sophomore has earned a 4.0 grade point average.
"I had some doubts in my abilities to handle coursework and balance other activities when I came here," Batchelder said. "I still have them."
The religion and creative writing double-major found the early success through disciplined study habits.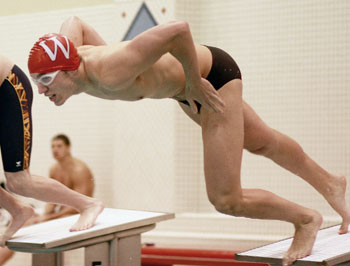 "I'm kind of a perfectionist," he said. "I'm organized, good at setting a timeline for myself, and setting priorities. I generally don't take Fridays off and I'm willing to sacrifice a little bit of sleep."
Batchelder hopes this formula for success will make him a minister after he graduates. His motivation to lead a church comes from pastors and congregation members in his hometown.
"I wouldn't necessarily say I'm the most religious person in the world," he admitted. "But I care deeply about people and an occupation that allows me to serve in some sort of spiritual means is very rewarding."
He is from Orland, CA, a town roughly two hours north of San Francisco. He lived with his mom and two younger brothers on the west coast. Batchelder misses the comfort home provided.
"You always have someone else to worry about at home," he said. "When you lose that, you tend to focus on your own problems and you exaggerate their importance which can get to you and feel depressing."
Batchelder was an independent last year but has decided to pledge at Lambda Chi in his second year. He found a situation more like home and said "It has a sense of responsibility and pride that I missed last year."
Schoolwork has remained a success in his sophomore year and despite rushing Lambda, Batchelder has geared up for the upcoming swim season. He climbed out of the pool last season at the NCAC Conference meet with a seventh-place finish in the 200 meter breaststroke.
"I significantly improved all my times last year," Batchelder said. "I was a seasonal swimmer before I came to Wabash. The year-round training here helped me drop 10 seconds off my 200 (breaststroke) and reach the conference finals.
"That was the highlight of my season, personally. This year I'm hoping to place higher at conference and qualify for nationals in the 200 and possible a couple of relays."
Batchelder will use the same two components that helped him succeed in the classroom to achieve his goals - motivation and discipline.

"The biggest thing for me is to pay attention to the details," he explained. "The breaststroke is more finesse than any other stroke so technique is really important. I have to work on pool outs, break outs, and my turns at the wall."
There is also a lot of strategy involved in a swim race.
"I make sure I don't go out there and swim like it's a sprint," he said. "I'm pretty conservative on the front half and hold a consistent stroke count all the way through. This allows me to finish strong."
Batchelder's and the Little Giants' first chance to make a splash for the 2012/2013 season will come against some stiff competition. Wabash's first meet is noon Saturday at Purdue University.