Thursday, Oct. 18 'Tuition Free' Day
• October 18, 2012

Share: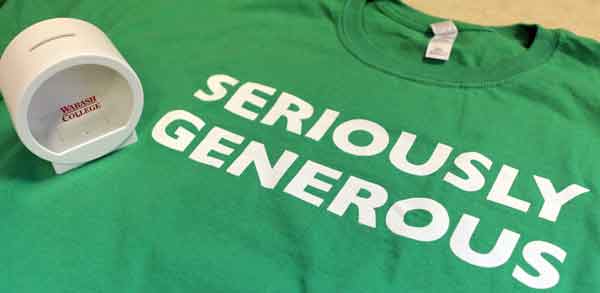 Today is "Tuition Free Day" at Wabash College. It marks roughly the point in time in the school year when the bill for a Wabash education stops being paid for by students and their families, and starts being paid by the generous gifts of Wabash alumni and friends.
"Our goal for this day is to get the current Wabash men (students) to recognize and appreciate the fact that their Wabash education is possible because of the generosity of alumni and friends who believe in the mission of the College and demonstrate their support annually with a financial contribution," Associate Director of Alumni Relations Michael Warren said.
"It's not about the size of the gift but rather the participation and we have a challenge for the students to begin paying it forward now."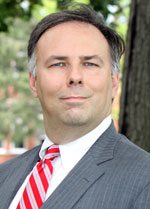 The highlight of the day will be a Chapel Talk by NAWM Board President Greg Castanias. The 1987 graduate will tell students he wouldn't have made it Wabash without the College's financial support.
"There's no way I could have afforded to attend Wabash College without the opportunity provided to me by some scholarships funded by alumni who came before me, and allowed me to attend Wabash essentially tuition free," Castanias will tell the students.
The College offices of alumni affairs and development will make it easier for students to start the habit of giving to Wabash. After the Chapel talk, small piggy banks will be handed out to each student. The students will be asked to put their change in the bank and turn it in at the start of the next semester. Those students who turn in a piggy bank with change will get a "Seriously Generous" green t-shirt.
Green is the color for just one day at Wabash. Just take a look at the website. Many members of the staff and faculty will be wearing green to help make the point.
The day was chosen somewhat at random. Obviously, tuition free day would not occur at the same time for each student. But for the vast majority of students, their tuition contribution expires about one-third of the way into each school year.
Greg Castanias is a member of the class of 1987, the current President of the National Association of Wabash Man, and a Washington, DC-based partner at the international law firm of Jones Day. In his law practice, he represents clients from all over the world in the US courts. He has argued three cases before the Supreme Court of the United States, and almost 40 of the highest-stakes patent cases in the country before the US Court of Appeals for the Federal Circuit in Washington. He lives in Northern Virginia with his wife, Jane, and his two daughters, Alex and Ella-Anne