Shane '70 to Receive Whistler Award
• October 16, 2012

Share:
The Greater Indianapolis Progress Committee has announced that David Shane, a 1970 graduate and member of the Wabash Board of Trustees, will receive the 2012 Charles L. Whistler Award – an honor given by GIPC and presented annually by the Mayor of Indianapolis.
The award recognizes individuals who, outside the regular duties of their chosen profession, have brought together the public and private sectors for civic improvement in Indianapolis. Mayor Greg Ballard will present the Whistler Award to Shane during a private ceremony on Thursday, November 15.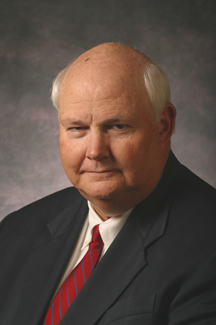 Shane is the Chief Executive Officer of LDI Ltd., LLC, where he has worked since 1997. From 1975 to 1995, he served as an education and employment lawyer with Faegre Baker Daniels.
For more than 20 years, Shane has been actively working to improve education in Indianapolis, Central Indiana, and the state. He was elected to the Wabash College Board of Trustees in 1996 and served through 2005, and was re-elected in 2007. He is chairman of the Trustees' Executive Committee.
Shane is also a Member At-Large of the Indiana State Board of Education, a board member of The Mind Trust, and serves on education advisory boards for the Indiana and Indianapolis Chambers of Commerce. He previously served as an education and workforce advisor to Governor Mitch Daniels, on the Indiana Education Roundtable, the Indianapolis Charter School Board, the K-12 Education Subcommittee of the Indiana Government Efficiency Commission, and the IPS GRADES citizen advisory group. His continuing focus has been on educational results that prepare each student, and thus families and communities, for success in further education, work and life in the knowledge-based, technology-enabled, global world of the 21st Century.
Shane also currently serves on the boards of the following organizations: the Central Indiana Corporate Partnership, the Capital Improvement Board of Marion County, the Economic Club of Indiana, and Lilly Endowment, Inc. Shane previously served in leadership roles with Damar Homes, Inc., the 1987 Pan American Games, and Second Presbyterian Church.
Shane and his wife Anne were inducted into the Indiana Academy in 2010, and in 2009 the Boy Scouts of America Crossroads Council presented them with the Thomas W. Moses Award for outstanding contributions to the community. They have a daughter, Molly, currently a physician in Chicago; a son Ben, who works for Target Corporation in Toronto, Canada; and three grandchildren.
"Dave Shane is exactly the type of humble, effective, private sector Indianapolis leader Chuck Whistler exemplified," said Murray Clark, GIPC Board Chair and Chair of the 2012 Charles L. Whistler Award Committee. "The sheer volume of his civic contributions, and the depth of community initiatives he has touched, make him a perfect addition to the list of extraordinary men and women who have previously received this remarkable award and helped establish a culture of private-public collaboration so critical to the remarkable success of our great city."
In its 28th year, the Charles L. Whistler Award continues to honor the legacy of Whistler, a lawyer and community leader in the grand tradition, who gave his time and extraordinary abilities to the Indianapolis community without asking for power or position in return. At the time of his death in 1981, he was a senior partner at Baker & Daniels and chairman of both the Greater Indianapolis Progress Committee's Urban Growth and Revitalization Task Force and the White River State Park Citizen's Advisory Committee.
Shane's name will be added to a limestone and granite monument recognizing award winners that is located in the Charles L. Whistler Memorial Plaza at the City Market in downtown Indianapolis.
Past Whistler Award Recipients:
1983: Thomas H. Lake
1984: Thomas W. Binford & David R. Frick
1985: Frank P. Lloyd
1986: Phillip R. Duke & Thomas W. Moses
1987: Mattie M. Coney
1988: Donald W. Tanselle
1989: Ramon L. Humke & Henry C. Ryder
1990: Richard O. Morris
1991: Eldon Campbell
1992: Michael A. Carroll
1993: William W. Mays & James T. Morris
1994: Fred C. Tucker, Jr.
1995: Robert H. Reynolds
1996: Thomas M. Miller & Sam H. Jones
1997: Dr. Gene Sease
1998: Jack Shaw & Dan & Lori Efroymson
1999: Andrew Paine & Yvonne Shaheen
2000: Rev. T. Garrott Benjamin & Michael Maurer
2001: Jerry Semler & Fay Williams
2003: Alex Carroll & Rev. Charles Williams
2004: Dr. Beurt Servaas & Gerald Bepko
2005: Joseph D. Barnette, Jr. (former chairman of the Wabash Board of Trustees) & G. Frederick Glass
2007: P.E. MacAllister & Marge Tarplee
2008: Patrick J. Early
2009: John T. Neighbours & Sallie W. Rowland
2010: Michael G. Browning
2011: Samuel L. Odle
More about Charles L. Whistler:
As an Indianapolis Star editorial noted shortly after his death in 1981, "Charles L. Whistler was a visionary, talented and energetic prime mover who had a leading role in shaping the Indianapolis of today and its modern political structure. He loved the capital city and the Hoosier state, town and county, urban scenes with beauty and character, and the great outdoors. He had the persuasive ability often associated with the authors of constitutions, and used it to win strong support and positive contributions from others, often representing diverse interests, for the array of projects and programs that he helped conceive and bring to fruition. He wrote much of the legislation consolidating city and county governments under UniGov. He also had a leading role in the modernization and beautification of downtown Indianapolis and the creation of the City Center on Monument Circle, the adaptive reuse of the Indiana Theater, the downtown retailing mall concept, and the planning of the White River State Park."