Author/Chef Michael Ruhlman Visits Tuesday
by Howard Hewitt • October 10, 2012

Share:
Celebrated food author, chef, and occasional television personality Michael Ruhlman will visit Wabash Tuesday. He will answer questions about cooking, celebrity chefs, and his career at noon and will give a public talk that evening.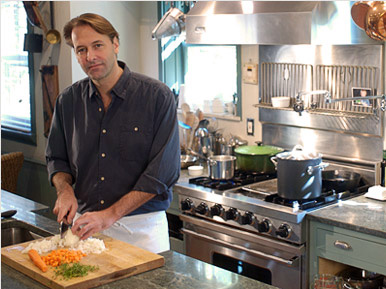 Ruhlman, who is a prolific writer on food and chefs, is perhaps best known for his appearances on Anthony Bourdain's "No Reservations" and as a judge on Food Network's "Next Iron Chef" and "Iron Chef."
Ruhlman will open a Q&A at noon in Hays 104 with a brief talk about his book Twenty. The book details 20 techniques and ingredients that can help the home chef. Chef Ruhlman will then take questions on any topic. Bon Appetit will serve a gourmet pizza lunch.
The culinary authority will give a public talk at 7:30 p.m., Baxter 101, titled "The Cooking Animal." The Wabash College Bookstore will have several of Ruhlman's books available for purchase. Chef Ruhlman will sign books after the talk.
Ruhlman, who grew up and still lives in Cleveland, is a graduate of Duke University and the Culinary Institute of America. His first book "Boys Themselves" is about his formative years at Cleveland's all male University School.
He worked briefly at the New York Times before returning home to Cleveland. He has an interesting connection to Wabash College. Ruhlman wrote for Wabash Magazine in 2002, a piece for A Man's Life about returning to Cleveland to live with his father.

Ruhlman has written books on cooking, books about chefs and professional cooks, cookbook collaborations, cookbooks with famed chef Thomas Keller and the French Laundry Family, and four non-fiction releases. For details on his books, career, and blog, just visit Ruhlman.com
His appearance is sponsored by the Visiting Lecture Series and Bon Appetit. General Manager Mary Jo Arthur and Executive Chef Jordan Hall plan on celebrating the day. Hall has selected several recipes from Twenty for Tuesday lunch in Baxter Hall.
Independend students and others dining in Sparks that day will enjoy Ruhlman recipes featuring: Garwood Farms Sweet Bell Pepper Soup, Moody Meats Sausage and Escarole Soup, Moody Meats Pulled Pork with Eastern North Carolina Barbecue Sauce, Mac and Cheese with Soubise (Fair Oak Farms Cheddar), Roasted Cauliflower with Brown Butter, Miller Farms Rosemary Brined Buttermilk Fried Chicken, Lambright Farms Creamy Mashed Potatoes, Steamed Green Beans Honey Buttered Rolls, Angel Food Cake with Whipped Cream and Toffee. Bon Appetit puts serious emphasis on using Indiana products.
Bon Appetit is sponsoring a private dinner that evening before the public talk.
Ruhlman will also talk about the writing process during a scheduled afternoon classroom visit with English Professor Marc Hudson.