Northwest Indiana
by Scott McEuen '83 • October 9, 2012

Share: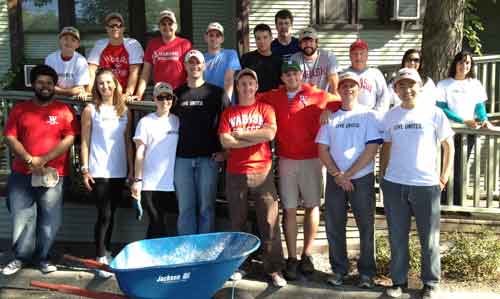 Kneeling: Chuck McCarroll '86
Standing Left to Right: Paul Kyriakides '83, Ron Nichols '64, Bill Evans '11, Scott McEuen, '83, Chet Turnbeaugh '14
Saturday, September 15, 2012, was a beautiful, late summer day here in Northwest Indiana. It was perfect weather for our 2012 Northwest Indiana Wabash Day at the Old Sheriff's House and Jail located in beautiful Crown Point, Indiana: county seat for Lake County, Indiana . Our group of alumni included Ron Nichols '64, Paul Kyriakides '83, Scott McEuen '83, Chuck McCarroll '86, Bill Evans '11, and Chet Turnbeaugh '14, Chuck McCarroll's wife, Fiona, daughter, Jenna, and daughter's boyfriend, Zach.
Our first order of business was a detailed tour of the jail led by my friend, Jim Emerson, who serves on the Board of Directors for the restoration of the Old Sheriff's House and Jail. The tour was spellbinding because of Jim's superb command of the Dillinger story details and his enthusiasm for retelling that infamous day's events. As the tour progressed, I couldn't help but think how good Jim would look dressed up as John Dillinger and carrying a machine gun!
At the end of the tour, we Wabash men did what we always do best: we picked up some paintbrushes and paint and got down to some good, old-fashioned hard work! In one of the pictures, you'll see Paul Kyriakides '83 concentrating on his painting as if it were his senior year oral exams! We painted the steel bars for one of the jail cellblocks, and I think we all got a pretty good feel for what it must be like locked up in a cage!
Well, enough of my ramblings, I'll let the Wabash alumni, who were there that day, tell the rest of the story:
Chet Turnbeaugh, '14 stated: "Last Saturday I had the awesome privilege of getting together with a group of fellow Wabash men to do what we all do best—work hard. Traditionally speaking, community service usually doesn't entail guns, bank robberies, and national scandal. However, our crew was led firsthand around the historic Crown Point jail, better known for John Dillinger's storied wooden-gun escape. As we toured the historic halls, there were times when a faint chill could be felt in the room, coincidence? Perhaps; or, maybe as a lover of folklore and the supernatural, one could make the case that John Dillinger was making one last visit to the jail which helped boost his national fame to the point of superstardom, while earning Crown Point, Indiana such infamous nicknames as Wooden Gun and Clown Point. All joking and superstition aside, helping restore the Crown Point jail was one of the best ways to spend my time on a beautiful fall Saturday morning. Working alongside other Wabash men helped reassure me that I would be in good company should the tour guide turn jailor and decide to lock up the first-story cellblock we were restoring. Looking back, the day was more than a history lesson, a free hat, or even a good day spent with good people, my first Wabash Service Day was another great memory to chalk up in the ever-growing Wabash scrapbook. Thanks Wabash!"
Chuck McCarroll '86 stated: "I specifically enjoyed the fellowship of current and past Wabash men and families. Our spirit and combined efforts really helped to move the Old Sheriff's home project forward and demonstrated that we are indeed Little Giants in the area of community service."
Paul Kyriakides '83 stated: "What a fantastic way to spend a few hours! I participated in the NWI 2012 Wabash Day in Crown Point, IN and I can say that I truly felt the time spent was equally informative as it was enjoyable. We had a tour of the Sheriff's house and of the jail where John Dillinger was held and escaped from. Extremely interesting! While doing some work on the jail itself, it was great to chat with Wabash alums as well as one current student. It really reinforced that whether fraternity or GDI, recent grad or a 50-year alum, our common Wabash experience unites us in a way that is unique and special. I would like every alumnus to consider donating a few hours and participate in a similar event in your area. Time very well spent!"
Ron Nichols '64 stated:
· SHARING
As undergrads and alums we not only shared our work project at the Crown Point, IN Old Jail and Sheriff's House, but we also shared our Wabash experiences. Some were funny but most were about our professors who were not only our instructors but were our mentors and friends.
· GIVING
We worked as a team to help restore a local landmark – remember John Dillinger? The City of Crown Point was most appreciative of the gift of our labor. We truly "spread the fame of her honored name".
· LOVING
We all realized that by sharing and giving we reaffirmed that our love of Wabash College transcends generations.
It was a great day. Thanks for the opportunity.
Bill Evans '11 stated: I had a great time with this group, and I look forward to the 2013 NWI Wabash Day.
Finally, my personal thanks to all the alumni and family members who turned out for the 2012 NWI Wabash Day and made it such a success. You all did Wabash proud!