Little Giants Grind Out Win Over Witt
by Howard Hewitt • October 6, 2012

Share:
SPRINGFIELD, Oh. – A little muscle and grit made sure Wittenberg didn't rally past the Little Giants here Saturday afternoon. Wabash used an extended, clock-killing drive for a 27-24 NCAC win.
The annual heavyweight showdown came on Witt's homecoming weekend. "We made a ton of mistakes today," Coach Erik Raeburn said.. "But you don't schedule Bash for homecoming."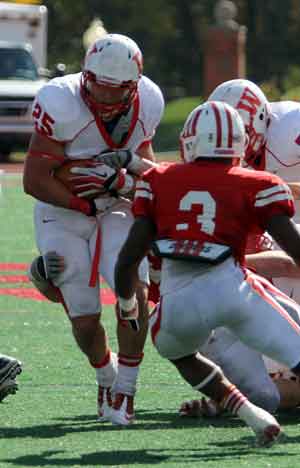 The Tigers stole second half momentum several times and seemingly were poised to do it again when Jimmy Dehnke scored from 6 yards, 27-24, with just over nine minutes to play. But Wabash responded with one of the more memorable drives in recent years.
The Little Giants took over with 9:32 remaining. The line provided holes just big enough for 17 plays covering 48 yards. The final play of the drive was kneel down.
"It's pretty simple. Wabash always fights," said running Tyler Holmes who ran the ball 12 of the 17 plays. "That's what it took on the last drive. Coming into it, I knew it was going to be all run and if we got it, we'd win. I was going to do what I could and I knew the line would do what it did all game."
And the line opened holes big enough to chew up the clock and secure the win. "We ran two plays - inside zone to the left and outside zone to the right," left guard Mark Riffle said. We just kept hammering and hammering. They were tired and we were in shape. That's what we do at practice, constant reps. Their guys were huffing and puffing."
The win put Wabash right back in the middle of the NCAC conference race. Allegheny and Ohio Wesleyan are unbeaten in league play while both Wabash and Wittenberg have one loss. The win was significant for Coach Erik Raeburn, not just the second straight over Witt but the 100th of his career.
"It's hard to get a win here so it doesn't matter what number it is," Raeburn said. "It feels good. I'm proud of our guys and how hard they played."
The Little Giants got off to a dominating start with a touchdown from defensive end Charlie Kolisek, who lined up as a tight end. Holmes added two-yard score before Witt found the first half scoreboard with a field goal, 13-3.
One of the game's big moments was the opening kickoff of the second half when the Little Giants forced a fumble. The Wabash offense wasted no time putting seven more on the board behind a Chase Belton four-yard run. Belton had an efficient day passing hitting on 12 of 17 for 218 yards.
But Witt, as these two teams always do, just wouldn't go away. Dehnke picked up touchdown runs of nine and two yards to pull the Tigers to 20-17.
That set up Wabash for its first big gutsy response. After a swap of possessions, the Little Giants covered 86 yards in eight plays with a key component Andrew Gibson's 30-yard catch. CP Porter ran it in it to push the margin back to ten points, 27-17.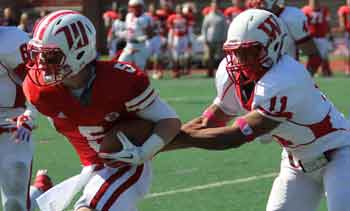 The defense held Witt but on the following punt Wabash was assessed its third personal foul of the game. The mental breakdown was followed by a fumble on the first play of scrimmage handing the ball right back to Witt.
Dehnke then ran on five of the six following plays, including a six yard score, 27-24. That set up the impressive run by Wabash to finish the game. The freshman back ran 24 times for 11 yards and three scores.
Raeburn was not happy with the mistakes and mental breakdowns but was beaming over the way his offense performed, particularly on the final drive.
"It wasn't perfect by any stretch," the coach said. "We made a ton of stupid mistakes and kept giving them chances but I'm really happy with our team's overall effort.
"On that last drive, we sustained the blocks a little longer. We were close in first half of popping a couple of runs and their defensive linemen and linebackers were doing a good job of getting off the blocks. Particularly in the fourth quarter, we finished our blocks a little better."
The Little Giants ran the ball 52 times for 169 yards. Holmes led all ball carriers with 20 carries for 76 yards. Porter had 14 carries for 47.
The 169 yards was key against a defense Raeburn praised as tough and physical.
"The line is starting to feel comfortable at each position and as a unit we're picking up each other's tendencies," Riffle said. "We're communicating better. We've been putting in the time in film and it shows."
Cody Buresh led the defense with 10 tackle. Nate Scola added nine stops and A. J. Akinribade had 8 tackles.
"Witt was running quarterback read a lot," Buresh said. "Our defensive linemen were getting washed down. We figured it out and made adjustments. The hard hat defense and had to go to work."
Wabash travels to Washington University next weekend.
More News
---
---
Photo Galleries

Wabash 27, Wittenberg 24