Students Participating in Finance Immersion
by Jim Amidon • October 5, 2012

Share:
Rather than run home for the fall mid-semester break at Wabash College, one group of students are in Indianapolis for the inaugural Finance Immersion Program sponsored by the College's Business Leaders initiative.
The new program is modeled after the College's highly successful Business Immersion and Marketing Immersion programs, which are co-curricular opportunities for students to gain significant knowledge and hands-on experiences, while building a professional network of contacts. A Healthcare Immersion experience is planned for the spring semester.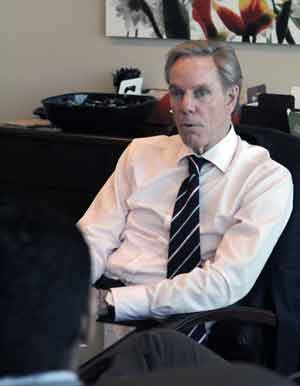 The program's coordinators are Dr. Frank Howland of the Economics Department and Betsy Knott, who is Director of Business Immersion and Leadership Programs.
"Giving students a chance to hear from several practitioners about what they do in various subfields of finance and health will only further enforce what students are learning through their coursework," said Knott.
"Both of these new programs require students to apply and interview for a position. We want students to be able to articulate what they've learned in the classroom and how that knowledge applies to every day use. . Participants will also complete a project on valuing a company and give a presentation of their conclusions at the end of the program on Saturday morning."
Prior to their immersion in finance in Indianapolis, students have spent a good bit of time studying the finances of Eli Lilly and Company. A grant from Lilly Endowment Inc. is funding the programs.
Howland and Knott have scheduled lectures by five Wabash alumni who are involved in high-level positions in finance. The guest lecturers include Tom Hiatt '70, Managing Director of Centerfield Capital Partners; Dave Knott '69, Investment Broker with The Equitable; Tim Oliver '91, Senior Vice President of JPMorgan Chase Bank; David Lewis '81, Vice President of Global Taxes, Chief Tax Executive, and Assistant Treasurer at Eli Lilly & Company; and Brian Edelman '82, Vice President of Corporate Finance and Investment Banking.
"We're grateful to these alumni for sharing their vast experience with our students," added Knott. "So many of our students come to Wabash interested in a business career and for good reason: our alumni are very successful in all aspects of business. In this particular Finance Immersion, our students will come to understand how financial professions manage investments, value businesses, and deal with risk, which will better prepare them for internships and, ultimately, their careers after Wabash."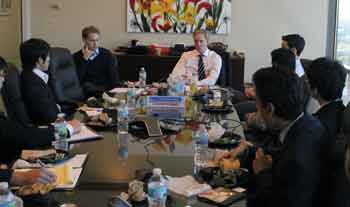 According to Dr. Howland, the goals of the Finance Immersion program are:
• To provide students with useful information on careers in finance. Students will learn about the most important types of jobs and firms in finance and what kinds of skills and specialized knowledge are required for success in the field.
• To give students an overview of main ideas in finance. Participants will be able to retain and deploy the specific knowledge they obtain in the classroom much more effectively in the work world because they will have a conceptual framework for thinking about the financial system.
• To give students the tools they need to learn more on their own about finance and careers in finance.
"We also hope that our students will have made a few contacts in the financial world directly from the program, and that they will have a good idea of whom they want to talk to next and how to obtain more information about finance," said Dr. Howland.
The program begins immediately after classes end for fall break on Wednesday and continues through the weekend.