Diaz-Aguilar '14 Hopes to Help Latino Kids
by Joceyln Hopkinson '15 • October 4, 2012

Share:
Fans may have noticed a towering presence missing from the Little Giants' defensive line this fall. Junior defensive end Jorge Diaz-Aguilar has seen limited action after he tore his meniscus early in training camp.
"It was just one of those freak accidents," he said. "My cleat got stuck in the ground while my body twisted. I didn't feel a pop but I know something was wrong. I wasn't able to generate any power out of my stance."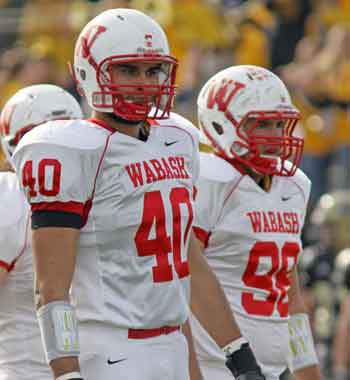 The injury caused 6-foot, 6-inch Diaz-Aguilar to miss the rest of training camp and the team's first game. He was cleared to play the following week, but has been eased back into his starting role.
"I do feel better," he said. "I'm not back to 100 percent yet but it's getting there. My knee swells up after practice so I have to ice down a lot. Really, I ice it after any activity involving my knee so I don't take two steps forward and three steps back."
The Kappa Sigma member thinks he's close to full recovery. However, he and the coaches are still being cautious.
"I'll be in the rotation for the Wittenberg game but I don't think I'm starting," he said. "I know I'll endure some pain but I also know my limits. If it gets to the point where I can't complete my assignment, I know it's better for the team that I'm taken out."
Players and coaches are not the only ones to miss seeing Diaz-Aguilar on the field this fall. His mom misses it too. In fact, one of the reasons Diaz-Aguilar chose Wabash was so he could stay close to home so his mom could see him play.
"The combination of academics and athletics here is perfect," the South Bend, IN native said. "All the other schools I considered were either decent at football but didn't have good academics, or they were good in academics but poor in sports."
Diaz-Aguilar is a Psychology major with a Spanish minor. Even though Spanish is his native tongue, his minor is not being used as a GPA booster.
"I want to get into counseling," he explained. "The counseling would be to help Latino kids that struggle with their English. It would also help their parents. I understand what the kids are going through so I could communicate those problems to the parents and try to encourage the parents to get involved in teaching their child English."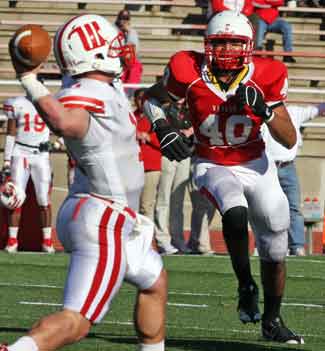 His motivation to help Latino boys and girls comes from personal experience. When he was four, his dad found a job in South Bend. Diaz-Aguilar, his father, mother, and sister left their family in Guadalajara, Mexico for northwest Indiana. As a young boy, Diaz-Aguilar and his friends had a difficult time communicating in school.
"I was placed in the ESL class as a boy with a lot of other Latino kids," he said. "I witnessed the struggles my friends and I faced in speaking English. At home, we would only speak Spanish.
"If you told us something in English, we could get it. But when teachers would ask us to apply it and say it back, it was a struggle."
Fortunately for Diaz-Aguilar, he had his mom, Rosalina, to help him learn.
"The reason I can speak English so well now is my mom," he said. "She would take me to her English classes and I would pick up some things. She'd also have me do different exercises and worksheets so I could learn."
Rosalina was more than a teacher to her only son and daughter.

"My dad wasn't really present in my childhood but my mom has always been there for me," Diaz-Aguilar said. "She always stressed to me: god first, then education, then everything else. She works in a church and its congregation is mostly Latino. She's very involved in the community and when she's involved, I'm involved."
For now, Diaz-Aguilar's involvement is the football team and Sphinx Club. He'll be involved in the middle of the action Saturday in an important game at Wittenberg.