Wabash Students Collect for MUFFY Tonight
• October 4, 2012

Share: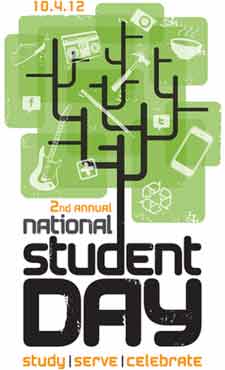 Wabash College will lend some manpower to the local MUFFY Campaign tonight. It will be the 37th straight year Wabash men have helped the local agency do a door-to-door fund raising campaign.
MUFFY is similar to the United Way, supporting the Family Crisis Center, Sunshine Van for seniors to get to doctor appointments etc., Food pantries, Boys and Girls Club, and Youth Service Bureau among others
Wabash fraternities are supporting MUFFY for the 37th straight year. Cody Leatherman '11 is co-chair of the Residential Drive along with Professor of History Rick Warner
After gathering donations tonight, students bring the money and checks to Elston Place, where President White and MUFFY staff greet them over cookies and punch.
MUFFY has a 2012 campaign goal of $501,000. Residents are asked to turn on their porch lights to welcome Wabash students.
The effort tonight coincides with National Student Day being sponsored locally by the Wabash College Bookstore. The bookstores has special deals today and prizes for Wabash students.
Students will wear tshirts with the National Student Day logo (at right).