AXS to Broadcast Bell Game; Tickets on Sale
• October 3, 2012

Share:
For the eighth year, the Monon Bell Classic will be easily available in family rooms and sports bars across America on AXS TV. The network will provide live, high-definition coverage of the November 10 football game between Wabash College and DePauw University at Byron P. Hollett Little Giant Stadium in Crawfordsville.
Tickets on the Wabash side of the field can be purchased through the Wabash College Bookstore.
Launched in July 2012 under the vision and stewardship of entrepreneur Mark Cuban, AXS TV is the premier destination for live events, breaking news, and as-they-are-happening trends in the worlds of pop culture, music, fashion, and entertainment. HDNet, AXS TV's predecessor, had televised the last six Wabash-DePauw contests (2006-11) and also covered the 2003 game.

"The Monon Bell game is football at its best: a long, fierce and close rivalry between two very good liberal arts colleges, located just 27 miles apart, playing for pride and the love of the game," says Cuban. "It's been a great relationship, and this rivalry is as good as it gets."
Every year, enthusiastic alumni and friends of DePauw and Wabash gather on game day for telecast parties across the nation. They were held in more than 60 cities last year.
"AXS TV is easy to find and their coverage is breathtakingly good," says Ken Owen '82, executive director of media relations at DePauw. "Darrell Ewalt (executive producer of sports for AXS TV) is a veteran of network sports coverage who has covered some of the biggest sporting events for decades, and he and his crew treat this like it's an NFL playoff game. We're thrilled to work with them each year."
"The only closer seat is on one of the two team's benches," adds Jim Amidon, senior director of communications at Wabash College. "The broad reach of AXS TV has brought our two colleges and this great annual tradition to the attention of many new people across the nation, which is great for all of us."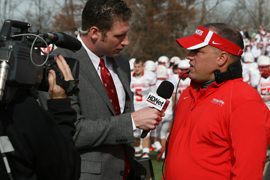 The largest independently owned and operated network, AXS TV was developed by entrepreneur Mark Cuban and General Manager Philip Garvin. The network partners include Mark Cuban, AEG, Ryan Seacrest Media and Creative Artists Agency (CAA). AXS TV is available in the U.S. via AT&T U-verse, Charter, Comcast/Xfinity, DIRECTV, DISH Network, Insight, Suddenlink, Verizon FiOS, and other TV providers. AXS TV can be found online at www.axs.tv, on Facebook at facebook.com/axstv and on Twitter at axstv.
The 119th Monon Bell Classic will also be commemorated with a limited edition DVD. Only 300 discs will be made; each college will have 150 to distribute. Wabash fans can order DVDs through the Wabash Bookstore, and they'll ship in plenty of time for holiday delivery.
This November's game will become the fifteenth contest in the historic series to be captured on DVD. The sets are a collaborative venture between DePauw and Wabash, with Owen mastering the disc and Amidon creating the packaging and navigational menus.
The 2012 DVD will feature the AXS TV telecast presented in widescreen enhanced for 16x9 televisions; photo galleries of this year's battle for the Bell and a collection of historic images dating back to the rivalry's early days; "Monon Memories" of memorable contests; a new video created for the always popular Ballad of the Monon Bell, and other extra features.
The Monon Bell was voted Indiana's best college sports rivalry by fans of ESPN, and is noted in the DVD collection, ESPNU Honor Roll: The Best of College Football, as one of the nation's best annual clashes.
Past games have been televised on ESPN2 and ABC, and the Monon Bell was featured on CBS' Sunday Morning and has twice been spotlighted in Sports Illustrated. The annual DePauw-Wabash clash is also detailed in Rites of Autumn: The Story of College Football, a book by Richard Whittingham.