Little Giants Put Focus on Carnegie-Mellon
by Joceyln Hopkinson '15 • September 28, 2012

Share:
"What happened last week is last week," sophomore linebacker AJ Akinribade said. "We're just trying to go 1-0 this week."
That's the team's mindset heading into this Saturday's homecoming showdown against Carnegie Mellon after the 20-17 upset loss against Allegheny College. Kickoff is set for 2 p.m. this week.
"We're ticked off about what happened last week," Akinribade said. "Instead of feeling sorry for ourselves, we're using it as motivation."
The Tartans are by no means an "easy win". They are 4-0 on the season including a 37-7 victory at Allegheny College. The Pittsburgh-area school defeated Depauw last week, 51-28.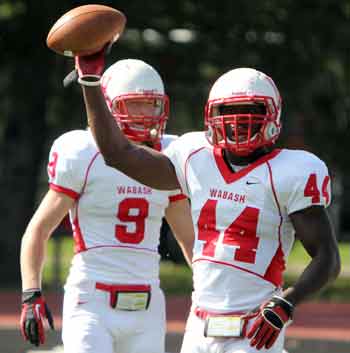 "I don't believe there was a lack of effort, but clearly, we weren't focused because we were making stupid mistakes," Coach Erik Raeburn said. "I've never been one of those guys that believe good things come from a loss. But I hope that our players regain their focus and do a better job of executing in Saturday's game."
The game Saturday caps off the 100th annual homecoming week for Wabash. Tradition and history has been cheered all week and fans will get to see some football history Saturday - the wing-t offense.
In a day and age dominated by the pass and spread offense, Carnegie Mellon looks as if it could strap on leather helmets and play in the '40s. The wing-t offense features multiple running backs and just one wide receiver. The running backs will run in different directions as if they have the ball, trying to confuse the defense.
Fifteen different players have carried the ball for the Tartans so far this year. The team is paced by senior fullback Jared Delello who has 199 yards and 2 touchdowns on 38 carries.
The Carnegie offense has a potent passing attack, an element it hasn't enjoyed in past years. Junior quarterback Rob Kalkstein is on pace to shatter school passing records this year with 996 yards and 10 touchdowns on 40-55 passing.
"The concern starts with their quarterback," Raeburn said. "He's been nearly perfect. They only throw about 15-20 times a game but he completes a high percentage of his passes and doesn't turn the ball over.
"You couple that with a real difficult run game to defend and it's a real challenge. This is hands down the best offensive team we've played."
Akinribade agrees with his coach's assessment. "They're tricky. They try to confuse you with all kinds of different hand offs and guards and tackles pulling all over the place."
So how do you stop this old, misdirection offense?
"Read our keys," Akinribade said. "Our linemen have to read the offensive linemen and follow a down block or a pull while linebackers have to mirror the guards and tackles. It's important we stay disciplined. We can't leave our gap because we're following the backs trying to play hero."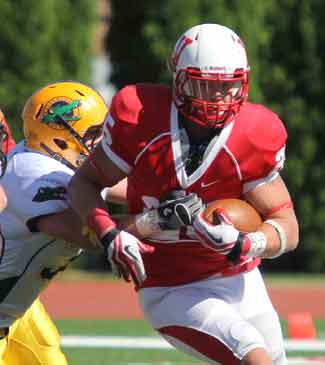 The Little Giant offense is looking to rebound against the Tartans as well. Junior running back Tyler Holmes provided a performance for the offense to build around last week. He rushed for 104 yards and a touchdown on 18 carries in his first game of the season. Holmes missed the first three weeks because of an AC joint injury he suffered early in camp. The same injury occurred to him last year at Wittenberg.
"It was pretty demoralizing when I got injured in camp," Holmes said. "It was the first time we had full contact and I thought to myself 'man, is this going to keep happening?'
"I got hit really good Saturday and it's reassuring to know it held up."
Linebacker AK Brefo anchors Carnegie Mellon's defense with 36 tackles and 3 sacks on the year. The unit doesn't rank tremendously high in any statistical category, but players and coaches know the game will be a battle.
"They're really stout up front with a big defensive line," Holmes said. "They're solid all the way through."
His coach echoed those thoughts.
"They (Tartans) set the defense knowing they play really explosive on offense," Raeburn said. "If you fall behind and have to start passing the football, you're in big trouble. They have incredible pass defense and are excellent in the red zone."
Wabash has not loss in 16 homecoming games but Carnegie Mellon presents the biggest challenge of recent memory. The game won't be easy but it's the team's first step in getting back on course towards its ultimate goal: a national title.
Click here to watch Jim Amidon '87 and Steve Hoffman '85 announce the game.