Steven Tepper Talk on Teaching Creativity
• September 26, 2012

Share: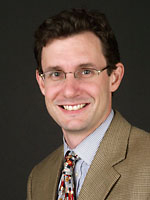 Wabash College will present a talk by Steven Tepper, associate director of the Curb Center for Art, Enterprise, and Public Policy at Vanderbilt University. Tepper will give his talk at 4:15 p.m., Thursday, October 4, in Lovell Lecture Room (101) in Baxter Hall. The title of Tepper's presentation is "Creative Work and the Work of Creativity: How Colleges and Universities Can Prepare Graduates to Reinvent Our World."

Tepper also serves Vanderbilt as an associate professor in the department of sociology. He the leading writer and speaker on U.S. cultural policy and his work has fostered national discussions on cultural engagement, everyday creativity, and the transformative possibilities of a 21st century creative campus. In his recent book, Not Here, Not Now, Not That! Protest over Art and Culture in America, Tepper examines a range of controversies over films, books, artworks, clothing, music, and television in many cities across the nation, probing into the complex nature of public protest.

Tepper holds a bachelor's degree from the University of North Carolina at Chapel Hill; a master's in public policy from Harvard University's John F. Kennedy School of Government; and a Ph.D. in sociology from Princeton University. Prior to Vanderbilt, Tepper served as deputy director of the Princeton University Center for Arts and Cultural Policy Studies.

In addition to his Thursday lecture, you are invited to join in a conversation with Professor Tepper on the topic of art and public protest on Friday, October 5, at 12:10 pm, in Center Hall, room 216,

Both events are free and open to the public.