Bloomington 2012
by Jacob Surface '11 • September 24, 2012

Share: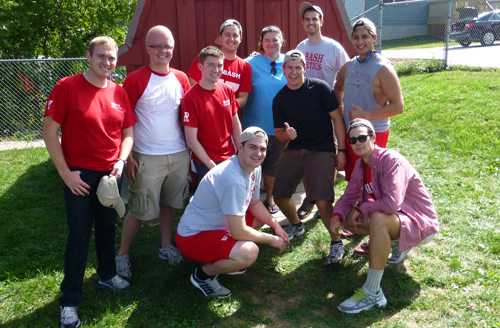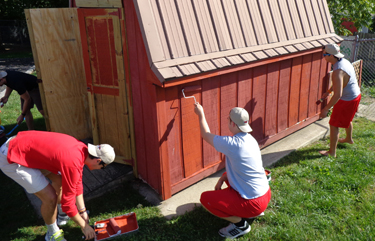 Nine young Wabash graduates gathered to volunteer at Monroe County United Ministries (MCUM), a non-profit social services provider in Monroe County since 1939. MCUM provides affordable childcare for working families and basic needs assistance to Monroe County residents in crisis and receives support from many local organizations but does not have a religious component.
Alumnus Jacob Surface '11 discovered MCUM by volunteering at a Bloomington food drive this fall. He helped Class Agent Jake German '11 organize the event which brought young alumni currently attending Indiana University graduate programs together for Wabash Day 2012. The youthful team cleaned and reorganized two sheds and painted one with their favorite color... Wabash Scarlet.
It seemed only natural to have a group of young Wallies together goofing off and painting something red. We swapped stories from homecoming and various nights out painting the bench. Meanwhile, skilled artist Ian Starnes '11 was on hand to ensure the highest quality work while Bloomington native Spencer Whitehead '11 exhibited the best of the Hoosier work ethic.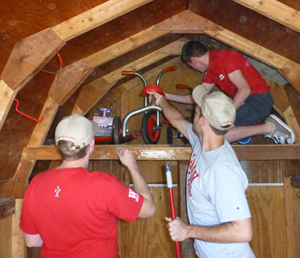 Laughs were had by all, led by perennial class clown Joel Bustamante '11. Local volunteer Tina Pender helped guide the fellows and made the "living humanely" connection between town and gown complete by sharing her stories as a childcare coordinator for struggling Bloomington area families.
Volunteers (Group Shot):
Kyle Grand '11
, Ian Starnes '11,
Aaron Bonar '10
,
Nolan Eller '11,
Steve Henke '12,
Jacob German '11,
Tina Pender,
Jacob Surface '11,
Spencer Whitehead '11,
Joel Bustamante '11